Research Highlights

Don't Rule Out Red Crown Rot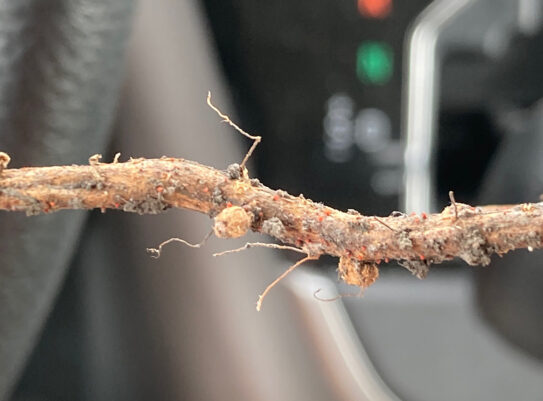 New Disease Finds its Way into Illinois Soybeans
By Barb Baylor Anderson
If 2020 didn't throw enough challenges at Illinois soybean farmers, there's a new plant disease making its rounds to add more frustration to the mix. The problem is, it acts so much like other common diseases, you may not know you have it or be aware of the damage it is causing.
"Red crown rot (RCR) historically has only been an issue in peanut/cotton/soybean rotations in the Deep South and Southeast," says Nathan Kleczewski, University of Illinois Extension field crop pathologist spearheading research that is partly funded by the ISA checkoff program. "The symptoms are similar to sudden death syndrome (SDS), especially, so it is easily misidentified."
That may be part of the reason the disease, which is well documented in Virginia, Louisiana and Mississippi, has been detected in Illinois soybeans but perhaps not in other parts of the Midwest yet. Kleczewski says many farmers and crop advisers don't realize they have RCR. But he says in 2019, severely-affected RCR-infected Illinois fields saw about a 25 bushel-per-acre yield loss.
RCR or SDS?
RCR is caused by the fungus Calonectria ilicicola. According to Cody Pettit, field agronomist for Corteva Agriscience in east central Illinois and ISA CCA (Certified Crop Adviser) Soy Envoy, RCR appears to overwinter in soil and can lay dormant for years without a host. Pettit suspects Illinois soybeans are increasingly becoming hosts, and has started to encourage farmers in his region to watch for RCR symptoms in low-lying, saturated areas of their fields.
Kleczewski does the same. "This is definitely a soilborne disease," he says. "Infestations in Illinois have been confirmed in Pike, Madison and St. Clair counties so far this year, typically in fields that run along creeks with known deer traffic. It is possible that RCR moves with deer, but possibly other animals, on farm equipment and through water or possibly flooding."
RCR is difficult to diagnose during wet springs. Kleczewski says farmers may assume reduced stands are due to the weather and not suspect RCR. However, if conditions warm up and it is dry for a period of time followed by rains after R3, farmers are likely to see RCR foliar symptoms.
Randy Niver, Bayer Crop Science technical agronomist based in Potomac, Illinois, and ISA CCA Soy Envoy has seen suspected RCR in a field that was thought to have SDS.
"It had the exact same leaf symptomology as SDS or brown stem rot (BSR), so as I pulled a plant and split the stalk. I did not see the signs of BSR, so I cleaned the outside of the plant off looking for signs of Diaporthe species (another disease-causing fungus) and found a red tinge at the soil line of the plant," says Niver. "I had heard from ISA officials about RCR as a possible disease in Illinois, so I called the University of Illinois plant pathology team to confirm."
Niver adds had he not scraped the soil off of the plant to look for Diaporthe species, he would have diagnosed the field as being infected with SDS. "I am glad I was made aware of RCR by the collaboration between the University of Illinois and ISA," he says.
"RCR is more widespread than we think. There may also be SDS in the same fields were we find RCR," says Kleczewski. "The only way to really identify it is to dig up plants. Use a hand lens to see if there are red balls on the crown and roots of the soybean plant."
Leaves of affected plants will have interveinal chlorosis but remain attached to the plant, unlike SDS, he adds. Sometimes the center of the lower stem has a grayish tinge as well, but neither the foliar symptoms nor internal stem discoloration are truly diagnostic. Kleczewski says the red balls must be present or the pathogen must be detected with isolation or a molecular technique.
Like SDS, RCR will present as patches of rapid senescence in a field with necrosis of the leaves that remain on the plants. Kleczewski says 10-12 dead or dying plants may need to be dug up to confirm whether the diagnosis is SDS or RCR. RCR-infected plants are often easily pulled from the soil because of the damage the disease has already caused to the root system.
Not Many Management Options
Unfortunately, once the disease is found, Kleczewski says there is not much that can reverse the effects of yield loss or plant damage. Within season, farmers can confirm RCR was the cause or at least contributed to the problem. But no resistant cultivars have been identified and fungicide active ingredient and seed treatment efficacy and utility for managing RCR are yet unknown.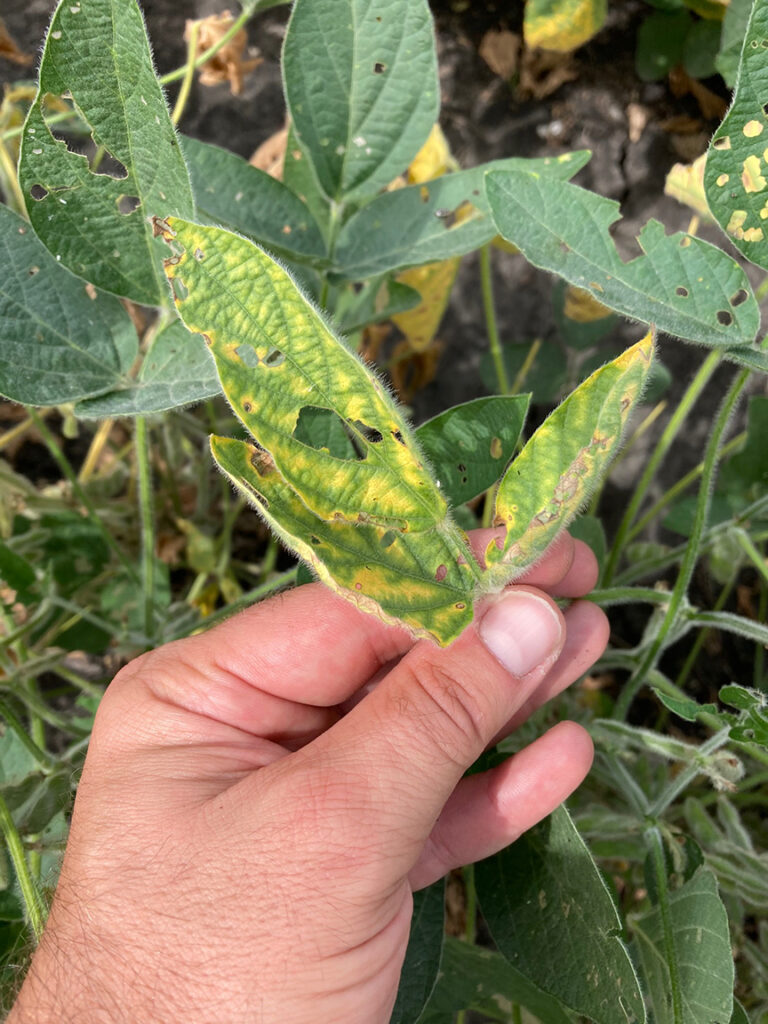 "At this point in time, the best management practice for RCR, SDS and similar-type diseases is to plant into ideal conditions and manage drainage in fields that tend to be more saturated. If disease is severe, the only tool currently available is rotation to a non-host plant like corn," he says. "The jury is out on seed treatments, so I would want to see what data say on that front."
Since RCR has not been confirmed in any other Midwest states, Illinois researchers hope to learn enough about the disease to develop strategies now that can mitigate future losses.
To that end, Kleczewski is working with University of Illinois master's degree candidate, Whitney Welker, to document RCR incidences in Illinois. As harvest began this year, they had collected some 275 plant samples and identified 10 fields with positive RCR diagnoses. The goal is to eventually produce an Illinois map that will show all confirmed RCR locations and potentially locate sites to conduct on-farm work in 2021.
"September was the sweet spot time for collecting plant samples," he says. "Whitney is taking over the project now and cataloguing and processing plant samples as they come in. We also are developing a molecular test with PCR to diagnose red crown rot by crushing leaves to test it."
Fungicide seed treatments will be evaluated by Kleczewski's lab as well. A collaborative, statewide network of experts is helping drive a survey regarding previous RCR distribution.
In addition, Kleczewski is using the original field in Pike County where RCR was first confirmed in Illinois to test strategies. He says the particularly serious infestation has provided a good opportunity to evaluate seed treatments. He also is doing micro plot trials at the University of Illinois campus and will perform greenhouse tests on effectiveness of seed treatments this fall.
"We are looking at what works in peanuts for control since there are no labels for efficacy in soybeans right now. We want to identify something promising," he says.
Kleczewski and Welker will evaluate data over the winter and set up tests and sample collections again for the 2021 season. The ISA checkoff program is funding the Illinois-specific work.
"We want management strategies to mitigate RCR before it becomes more widespread in Illinois. We are at a good starting point, and glad to have partnerships with ISA, the CCA Soy Envoys and industry to be on the lookout for RCR. Collaborations are critical," he says.
While samples are no longer being collected this year, the Kleczewski lab will seek samples again next fall. Learn more here: http://cropdisease.cropsciences.illinois.edu/?p=1220.
Check in with Online Research Resources
Whether red crown rot, sudden death syndrome or another disease or pest, Illinois soybean farmers have several online resources to gather actionable management information.
ISA checkoff-funded ILSoyAdvisor and the national soybean checkoff-supported Soybean Research and Information Network (SRIN) are two websites where Illinois farmers can learn how to properly identify diseases and review data on variety selection and treatment efficacy.
"Having these two websites that are sharing soybean checkoff research results is hugely exciting for Illinois soybean farmers, the ILSoyAdvisor team and our CCA Soy Envoys," says Todd Steinacher, ILSoyAdvisor content coordinator. "All of these groups look to ILSoyAdvisor for the latest management tips for profitably growing soybeans in Illinois. And now with SRIN, they have easy access to the research that went into developing those management tips."
The SRIN site is organized into categories that can be easily sorted by state, pest or disease. Illinois farmers can monitor problems and solutions developing in surrounding states, too. Research highlights articles that summarize results and diagnostic tools and other resources all help farmers take action. Visit www.ILSoyAdvisor.com and www.soybeanresearchinfo.com.
Published: Mar 8, 2021
The materials on SRIN were funded with checkoff dollars from United Soybean Board and the North Central Soybean Research Program. To find checkoff funded research related to this research highlight or to see other checkoff research projects, please visit the National Soybean Checkoff Research Database.