Research Highlights

Discovery Farms Engage Arkansas Farmers in Finding Sustainable Solutions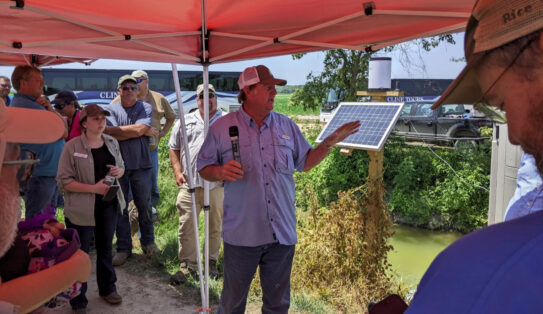 By Laura Temple
For more than a decade, Arkansas Discovery Farms have been providing on-farm data to find solutions for conservation and environmental challenges like improving water quality, irrigation water efficiency, fertilizer use, soil health, carbon sequestration and more. Farmers volunteer to participate, allowing collection and analysis of conservation-related data from their farms for 5 to 7 years.
"We started collecting edge-of-field data on four farms in 2011 to better understand water quality related to concerns about nutrient loss in the Mississippi River Basin," says Mike Daniels, professor and extension soil and water conservation scientist for University of Arkansas Cooperative Extension Service. He leads the Arkansas Discovery Farms program. "Today we focus on a variety of conservation practices we want to understand better, and the program has grown to include 15 farms."
He says active Discovery Farms include row crops and livestock farms. The program recently added a site focused on forestry and wildlife habitat, as well as two horticultural farms. University of Arkansas Division of Agriculture faculty coordinate and conduct research in collaboration with federal and state agencies.
"Our goal is to determine the effectiveness of water and soil conservation practices used on working farms," Daniels says. "Participating farmers decide what fields and practices to monitor for information that will help them figure out how to improve."
A wide variety of conservation partnerships make the program possible. For example, a soy checkoff investment from the United Soybean Board was among the initial funding sources that got the effort started. Daniels and his team leveraged support from the soy checkoff and other agricultural industry partners to secure government grants and private funding.
As the program has grown to include more farms and topics, the on-farm data gathered from active farms provides valuable information used to secure additional support. The Arkansas Soybean Promotion Board consistently helps fund a technician who collects the on-farm samples, the source of that data. Other partners include Arkansas Farm Bureau, Arkansas Corn and Grain Sorghum Board, Arkansas Rice Checkoff, Cotton Incorporated, NRCS, EPA, the State of Arkansas, the Walton Family Foundation and others.
"The Discovery Farms serve a valuable role in emotional issues," Daniels notes. "Often that emotion leads to policy with very little data. We provide data to make better decisions, getting farmers fully engaged in being part of solutions."
Water Management Improvements
Daniels explains how the data collected demonstrates the effectiveness of practices farmers have implemented on their farms.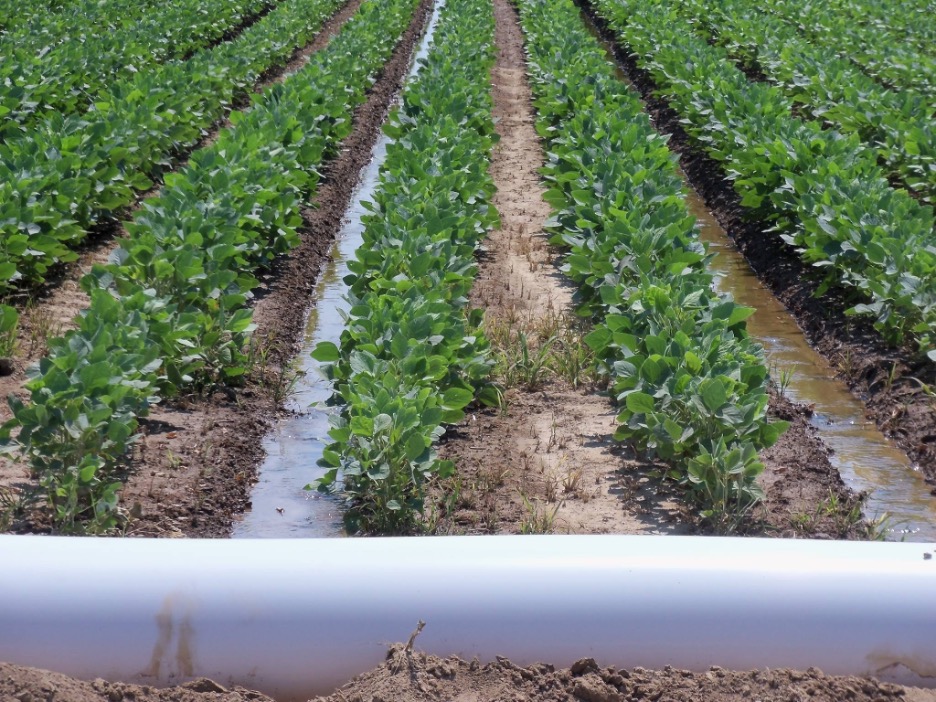 "We learned that farmers are losing less than 5% of the nitrogen and phosphorus fertilizer applied to their crops," he reports. "The percentage loss is about the same, regardless of the crop."
They also have learned that using a pipe planner program generates data that saves 20 to 25% of water use in poly-pipe irrigation systems. These furrow irrigation systems use flexible pipe that lays on top of the ground. Calculations based on water pressure and field size determine where to pop holes in the pipe to fill the irrigation furrows. The pipe planner program optimizes the size and placement of those holes.
A partnership with The Nature Conservancy supported the installation of automated controls on irrigation pumps, so they could be operated remotely. Combined with data from soil moisture sensors, this allows farmers to manage irrigation water use more efficiently.
Exploring Soil Solutions
Daniels says the farmer-driven aspect of Discovery Farms research helps farmers figure out practical ways to solve problems, and that their involvement leads to better solutions.
On one Discovery Farm, the cooperating farmer realized that his furrow irrigation was not reaching the soybeans. Investigation uncovered that water retention in his soils was very poor. He started growing a cereal rye cover crop, and over time, that practice helped improve soil structure and water retention. Now his crop roots can reach 18 inches through the soil rather than just 6 inches. The soil improvements have not only allowed irrigation to be effective, but also improved the efficiency so he can stretch out irrigation timing and use less water.
On other Discovery Farms, Daniels' team is starting to monitor how cover crops impact soybean nodulation and soil rhizobia activity.
"While we haven't collected enough data yet, we hope to find that cover crops could reduce the amount of fertilizer needed," he says.
As minimum- and no-till systems become standard, Discovery Farms are monitoring how the physical and microbiological properties of soil are changing. Due to interest in climate change beyond the agriculture industry, other locations are starting to measure carbon storage and greenhouse gas release to demonstrate farmers' commitment to sustainability.
"We are also uncovering issues we didn't realize we had," Daniels adds. "At the request of a colleague, we started measuring potassium and sulfate runoff in water, and we found that we lose much more potassium than we realized. The data we supplied will help researchers and farmers work together to find ways to keep that potassium in our soils for our crops."
Partner Education
According to Daniels, one of the most valuable aspects of the Arkansas Discovery Farms program is the ability to show stakeholders what farmers are doing to protect their natural resources. All the Discovery Farms regularly host tours.
"While these farms show other farmers how they can implement beneficial management practices, the program has the most impact on those involved in conservation efforts that have never stepped foot on a farm," he says. "They see the effort and investment farmers are making, and the challenges of implementing practices on these farms. They learn how they can partner with farmers and others to work toward sustainability goals."
He also points out the benefits of involving partners outside of agriculture. The Arkansas Discovery Farms focus on common goals to improve soil and water quality and demonstrate how farmers are working to solve challenges.
"We have some surprising partners, but engaging farmers in the solution process helps us make progress together," he says. "Discovery Farms data show that progress."
Additional Resources
Read how Iowa is also leveraging checkoff dollars for greater impact: Shared Research Goals Leverage the Soy Checkoff – SRIN article
Published: Jan 23, 2023
The materials on SRIN were funded with checkoff dollars from United Soybean Board and the North Central Soybean Research Program. To find checkoff funded research related to this research highlight or to see other checkoff research projects, please visit the National Soybean Checkoff Research Database.