Research Highlights

Discovering How Major Trait Genes Function to Build Better Soybeans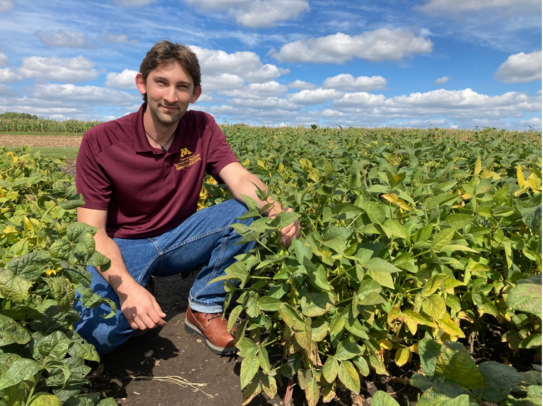 By Barb Baylor Anderson
Providing the right resources for soybean breeders to do their jobs more effectively and efficiently leads to better soybean varieties for farmers. One cutting-edge research project underway is focused on creating new resources for gene discovery and germplasm development that could enhance yields and improve the seed composition traits critical to crop productivity.
"The vision for this project is to re-sequence the genomes and gene space (which is the DNA that represents gene-encoding regions) for a sub-collection of chemically mutagenized soybean lines," says Robert Stupar, University of Minnesota soybean molecular geneticist and principle investigator for the North Central Soybean Research Program (NCSRP) project. "From this, we will perform a specific (bioinformatic) analysis of nearly all of the soybean genes to identify DNA base changes that are created by the mutagenesis. The work has been very promising."
So, what exactly does that mean for breeders and farmers? Stupar explains that the mutation breeding process is one that provides the possibility to explore novel traits for numerous gene targets. Besides yield and composition, researchers can evaluate disease, nematode and insect pest resistance and responses to water, nutrients, climate, soil and environmental conditions.
"Our primary interests today are in discovering new variations for seed composition traits to expand the breeder's toolbox and finding architectural traits that could improve yield or suppress weeds," he says. "So far, we've developed and grown more than 1,000 unique mutant families."
Stupar and colleagues will use these data to build a public database of mutant variants that will allow any researcher to search for mutant alleles of any gene of interest to create new varieties.
Already, University of Minnesota researchers are doing some field evaluations. "We plan to hand off some of the more promising architectural mutants to University of Minnesota soybean breeder Aaron Lorenz," he says. "For the seed composition mutants, we are in the process of using DNA sequence methods to find the most promising lines. These efforts are in the pipeline but need to be sufficiently vetted before putting them in breeders' hands.
Stupar notes the mutation breeding pipeline, like any breeding pipeline, will take several years from start to commercialization. The best mutations and traits need to be identified and then backcrossed into clean elite lines without too much drag coming from the mutant background.
"This requires the same evaluation pipeline as modern breeding programs," he says. "We are also exploring ways to speed up the mutant breeding process and facilitate breeding of multiple stacked traits while also selecting for highly quantitative traits controlled by numerous genes."
Ultimately, the materials being developed will be useful and available to the broader scientific community to enhance basic and applied research efforts. "We anticipate there will be potential avenues for favorable outcomes, though all of them will take time to come to fruition," he says.
Published: Dec 7, 2020
The materials on SRIN were funded with checkoff dollars from United Soybean Board and the North Central Soybean Research Program. To find checkoff funded research related to this research highlight or to see other checkoff research projects, please visit the National Soybean Checkoff Research Database.