Research Highlights

Discover Sources and Genes and Develop U.S.-Adapted Germplasm with Improved Protein Quantity and Quality Utilizing Diversity in Cultivated and Wild Soybeans

By Rouf Mian, USDA Agricultural Research Service in Raleigh, North Carolina

Soybean meal accounts for 60-70% of the total value of soybean crops. Recently, the meal-protein contents of commercial soybean cultivars in the U.S. have dipped below the minimum needed in the global marketplace. This situation is well-described in the 2015 USB Value Task Force Report: "U.S. soybean protein levels are on a path to decline from 34.5% in 2015 to 33.7% by 2030. There is broad agreement that doing nothing to address quality improvement in soybeans is not an option." The lower protein content of their soybean products puts U.S. growers at a significant disadvantage in the global marketplace. However, development of high-protein soybean is a difficult task, as historically seed protein content has been negatively correlated with both seed yield and seed oil content. 

This decline in protein content was caused by decades of private sector breeding in the United States that focused on increasing yield, with little attention paid to protein content. In order to reverse this decline, dedicated public sector research over a significant period of time will be required. Although an increased yield is often associated with reduced seed protein, the negative correlation between the two is not absolute. Research has shown that soybean breeders can bring about meaningful (2-3%) increases in seed protein without an accompanying loss of yield. This is due in large part to the treasure trove of genetic diversity in seed protein expression that exists in the 20,000+ exotic soybean accessions preserved in the USDA Global Soybean Germplasm Collection. The majority of the current "on farm" soybean varieties trace their ancestry to only 17 of those 20,000 ancestors, meaning that U.S. varieties trace their ancestry to a very narrow genetic base. There are many protein genes that have never been used in commercial breeding, with a wide variety of traits. This global library of diversity can be used to identify new germplasms with desired characteristics, to discover and use genes that control seed protein synthesis and storage, develop innovative breeding technologies, and for the application of new genetic and genomic tools. This is the largest project currently in the meal supply portfolio and was funded by the United Soybean Board for $1,512,400 in 2019. 

Earlier work identified the major high-protein gene (allele) on soybean chromosome 20 and led to the development of DNA markers that breeders can use for marker-assisted selection. In fact, high-yielding soybean cultivars/germplasm with more than 48% meal protein and balanced amino acid profiles are being developed using the latest breeding, genetic and genomic technologies.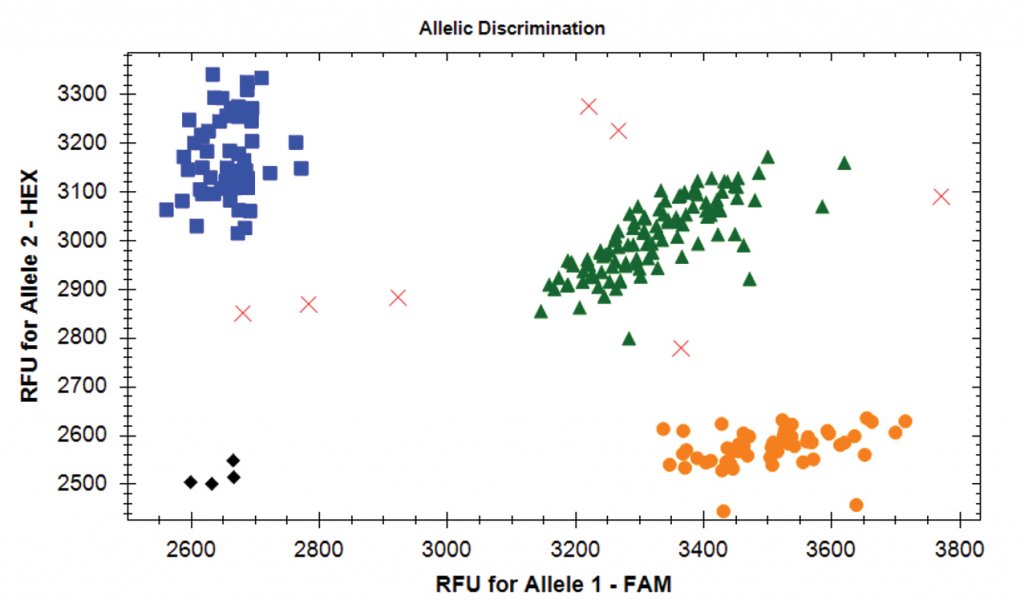 In a parallel line of research, thousands of breeding lines were screened for protein, oil and amino acid contents. More than 100,000 lines were screened for in FY19 alone, using a high-throughput NIR platform.
Many new genes that control both protein and amino acid content were identified from the germplasm collection. These sources were then developed and used as DNA markers for marker-assisted breeding programs, leading to many novel sources of high-protein soybean products. Several hundred lines have been screened with SoySNP50K, and several dozen lines have been sequenced, to fine-map the genes. Seven new high-protein, high-yielding germplasm/cultivars were released in 2019, some with high genetic diversity, as shown in Figure 2.
These cultivars will allow the development of higher protein soybeans with up to 48% protein meal. They will benefit not only U.S. soybean growers by making their soybeans more competitive in the global marketplace, but will also benefit private seed companies who can use these high-protein soybeans as parents in their breeding programs as well as poultry and livestock farmers who will be able to use the higher-protein soybean meal as feed.
Published: May 11, 2020
The materials on SRIN were funded with checkoff dollars from United Soybean Board and the North Central Soybean Research Program. To find checkoff funded research related to this research highlight or to see other checkoff research projects, please visit the National Soybean Checkoff Research Database.