Research Highlights

Development of Unique Soybean Varieties Fills Export Gap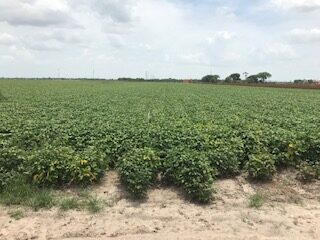 By Laura Temple
The soy checkoff invests in public soybean breeding programs at many universities and the USDA. These research projects focus on long-term, big-picture objectives. But the work done by these programs can be leveraged to address small, specific challenges with far-reaching results.
Plant breeder Andy Scott of Winecup Consulting farms near Monte Alto, Texas, in the Lower Rio Grande Valley, or the southern tip of Texas. He also serves as a director for the United Soybean Board. He collaborated with breeders for many years to develop soybeans for his area.
His region borders Mexico, the No. 2 export customer for U.S. soybeans. Through most of the year, shuttle trains carry soybeans to Mexican crushing plants. As U.S. soybean supplies tighten in July and August, these customers often begin importing soybeans from South America to keep their plants running at capacity. Scott explains that the sub-tropical climate allows South Texas farmers to plant soybeans in late February or early March and harvest them in July and August, filling that supply gap for nearby Mexican customers.
"This gap in U.S. soybean supply presents an opportunity for South Texas farmers to reinforce the reliability of U.S. Soy, which benefits farmers throughout the country," Scott says. "However, currently available soybean varieties will not perform consistently in this region."
Soybeans use the amount of light they get during the day to determine when to shift from vegetative to reproductive growth and start flowering. Breeders classify soybeans by maturity groups based on their response to day length, so farmers know how long they need from planting to maturity.
"Our latitude is near 26°N," Scott explains. "When we try to grow soybean varieties from any maturity group under our short days, they start reproductive stages before the plants are big enough to yield well. South Texas needs soybeans adapted to short days."
Delayed Soybean Flowering
With his connections to soybean breeders at the USDA research facility in Mississippi, Scott searched for solutions to this challenge.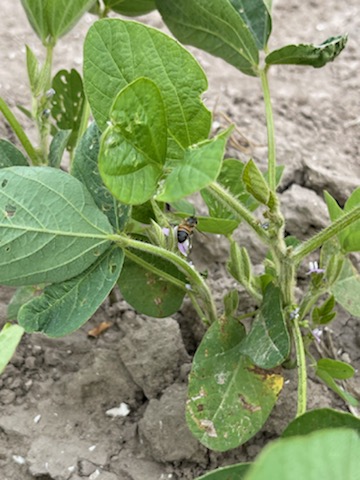 "Through years of public soybean breeders' research, a uniquely different trait was found in a plant introduction collected from a wild soybean in the Philippines. It's response to day lengths defies maturity groupings," Scott says. "It allows the plant to grow vegetatively for 50 to 60 days before switching to reproductive growth phases."
He calls this trait delayed flowering. These novel genetics allow soybeans to potentially deliver good yields all the way to the equator. He says these unique soybeans have been classified as "delayed flowering under short-day conditions" or "long-juvenal" varieties because of their extended vegetative growth.
The long-juvenal trait came with other characteristics that didn't fit commercial soybean production. For example, Scott said the wild soybean variety would release seeds from pods. The delayed flowering trait had to be balanced with the ability for the pods to hold mature soybeans until harvest, rather than shattering as soon as they reached maturity. Basic genetic work isolated just the desirable characteristics from the wild germplasm.
"It was a true collaboration. Researchers in Stoneville, Mississippi, and Gainesville, Florida, made soybean crosses to include that trait," Scott explains. "I evaluated and made selections from those crosses in South Texas. As public breeders, they completed basic research for this unique challenge and freely shared their work to help farmers."
Adding Functional Traits
As the opportunity for soybeans in South Texas expanded with the U.S. soybean export market, Scott recognized that farmers would need additional traits for soybeans to be a profitable option for local farmers. He worked with Dr. Grover Shannon and Dr. Pengyin Chen, soybean breeders from the University of Missouri.
"We want to help farmers," says Shannon, emeritus professor of soybean genetics and breeding for the University of Missouri. "We were able to cross the conventional South Texas varieties with lines containing the original glyphosate-tolerant herbicide trait, which farmers wanted."
Shannon says that the use of genetic markers helped the University of Missouri team also provide traits for salt tolerance, nematode resistance and a good disease package. Salt tolerance is needed because the irrigation water from the Rio Grande used in Scott's region has a high salt content.
"Root-knot and reniform nematodes are bigger issues in that region than soybean cyst nematodes because they also feed on cotton, so we screened for resistance to all those nematodes species," Shannon adds. "This is an area that will continue to be a focus in the future."
The disease package focuses on frogeye leafspot and stem canker resistance, but Shannon notes this is also an area for future improvement.
"By combining lines from Texas and Missouri, we were able to develop long-juvenal soybean varieties that help farmers in the Lower Rio Grande Valley," he says. "That's one state helping another. It's also an example of the value of public breeders, especially for small acreages that private companies don't focus on."
From Breeding to Commercial Launch
Initial crosses were done at a University of Missouri research station at Portageville, Missouri, creating 500 selections that the team evaluated visually. The most promising options were sent to a research facility in Costa Rica to speed the breeding process. The result was two long-juvenal, glyphosate-tolerant soybean varieties, Pamela GT and Lynda GT.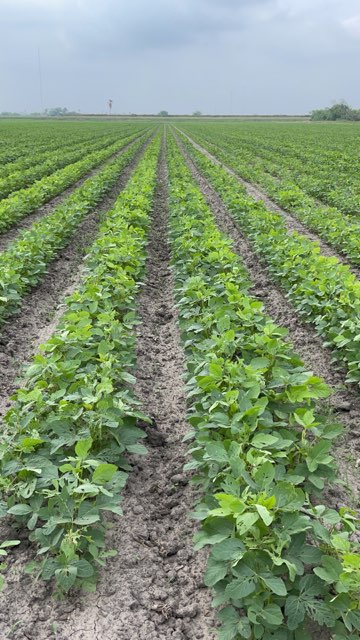 "After six years of breeding and field evaluation, we've developed a couple of soybean varieties that have an extended vegetative phase that allows them to grow enough to make yields equal to or greater than the U.S. national average," Scott explains. "In 2020, one of our varieties yielded 74.6 bushels per acre in commercial fields."
To make these soybeans available to farmers in the area, Garcia Grain Trading, a regional grain handling and export company, stepped in. They supplemented variety development funding and licensed these varieties from the University of Missouri.
"The royalties from the license come back to our breeding program," Shannon explains. "It was a small investment on our part, but it is paying off and allows us to reinvest in breeding efforts to help even more soybean farmers."
In the spring of 2021, Garcia Grain Trading contracted with farmers to grow about 2,000 acres of the new varieties. When planted in early spring — late February or early March — the new varieties act like Maturity Group 4 soybeans, which are typically planted in Delaware, Maryland, Virginia, Kentucky and across the southern Midwest U.S.
Despite a wet and challenging first crop harvest season, the soybeans still yielded well above the Texas and national averages, though it didn't yield as well as the previous year. Those soybeans were exported to Mexico.
These soybeans can be double-cropped following harvest of the first crop in July or early August. When planted between mid-July and mid-August, these soybeans behave like Maturity Group 9 varieties, which are typically planted in sub-tropical climates like central Brazil. They can be harvested in November or December. However, in general seed yields are 30 to 40 percent less than spring plantings. In the fall of 2021, a small crop provided seed for 2022.
Scott believes this work benefits farmers, giving them another option for crop rotation and profitability.
"These soybeans provide an opportunity for diversification that serves the best interest of both farmers in the Lower Rio Grande Valley and customers for U.S. soybeans in Mexico," Scott says. "Because of this work, more soybeans are being tested that could benefit other regions of Texas."
---
Photos: Garcia Grain Trading and Dr. Shannon Grover, University of Missouri
Additional research project information: https://www.soybeanresearchdata.com/Project.aspx?id=52294
Published: Feb 14, 2022
The materials on SRIN were funded with checkoff dollars from United Soybean Board and the North Central Soybean Research Program. To find checkoff funded research related to this research highlight or to see other checkoff research projects, please visit the National Soybean Checkoff Research Database.