Research Highlights

Developing Tomorrow's Soybean Researchers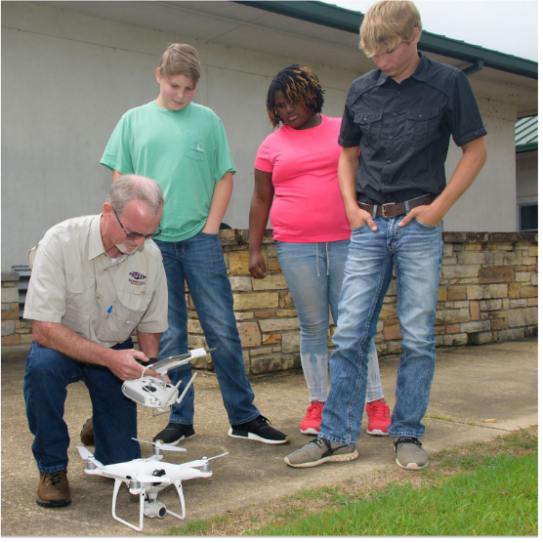 By Laura Temple
Nationally, crops account for about 54 percent of farm gate income. In Mississippi specifically, row crops accounted for about $4.3 billion in farm income, according to the 2017 USDA Census of Agriculture.
"Crops account for more than half our farm income, but in our state 4-H program, about 90 percent of our funding and energy focuses on livestock and horses," says Dr. Bill Burdine, agronomy specialist for Mississippi State Extension in northeast Mississippi. "That didn't seem fair or right to me."
Burdine noted declining college enrollment in agronomy majors, and he proposed a solution: increase the focus and excitement for crops to students. Though his Extension role doesn't include 4-H responsibilities, he wanted to introduce youth to his field.
"If we want to get youth into plant sciences, we need to get them interested and involved early," he says. "I participated in a regional career expo for eighth grade students in 2015, organizing the agriculture and natural resources segment of the event. Students flocked to learn about professions they knew, like law enforcement, but we got the attention of some who stopped to see what we did. We need to let them know that there is much more to agriculture than driving a tractor."
The Mississippi Soybean Promotion Board provided checkoff funds to support Burdine's efforts to develop future agronomy leaders. It's a small, unique investment in the long-term future of soybean research.
Exploring Science with Soybeans
At-home science experiments comprise the heart of Burdine's efforts. He provides a science kit to any youth between ages 10 and 18 who requests one. More than 80 kits were sent out to students in both 2020 and 2021. While this project fits well within 4-H, students don't have to be 4-H members to participate.
The kits include pots, potting soil, soybean seeds and a weather station. Participants supply the brain power and the labor. They decide how to track their results, using a combination of pictures, charts and any other ideas they develop.
"The instructions with the kit direct kids to research the scientific method for themselves," Burdine explains. "They are encouraged to develop their own hypothesis and a way to test it. They summarize the findings and submit them for judging. Award winners receive a jacket with MSU Extension and MSPB logos."
Project summaries are scored with an emphasis on the thought process, with the participant's age as a factor. He doesn't expect the same level of complexity from a 10-year-old compared to a 14-year-old or an 18-year-old. He has been amazed with the ideas the participants have developed.
"One 11-year-old hypothesized that irrigating soybeans with coffee would make them grow faster because of the caffeine," he says. "They don't, but this project isn't about what they study — it's about encouraging their curiosity and learning how science can answer questions. They learn different skills, like computer skills, charting data and more. But the most important skill is critical thinking and the thought process behind what they learn."
Burdine believes that these personal science experiences will grab more youth and draw them toward long-term interest in science.
Hands-on Agronomy Experience
Burdine also encourages interest in career-oriented skills through agronomy day camps hosted by Mississippi State Extension. The day camps invite 12- to 18-year-olds to get a realistic look at agronomy careers. The camps include classroom discussions and hands-on, in-field experience.
"The day camp is free, and it covers a wide variety of topics that many kids may not realize can be part of a career, from weeds to water quality to insects," he says. "A highlight has been showing them the role drones play in agronomy. Every participant gets a chance to fly a drone, reinforcing the reality of cutting-edge science in agriculture in a fun, memorable way."
Burdine also developed the 4-H Agronomy Bowl, a quiz-style competition for senior 4-H members. He created a manual for participating teams to study in preparation for the competition during the state 4-H Congress. The material and contest questions included speed questions, some that required calculations and much more.
"Due to the pandemic, our 2021 Congress was reduced to just eight contests instead of the dozens that we usually host. But one of those contests was the first Agronomy Bowl," he says. "I was impressed with the initial response and the performance of the winning team from Pontotoc County."
His goal is to encourage these students to consider agronomy and agriculture as a career. In fact, he hopes these efforts are training replacements for he and his colleagues. They will become the next generation of agronomists helping farmers continuously improve their production and profitability.
Published: Jan 31, 2022