Research Highlights

Developing High-Yielding Soybean Cultivars with Disease and Pest Protection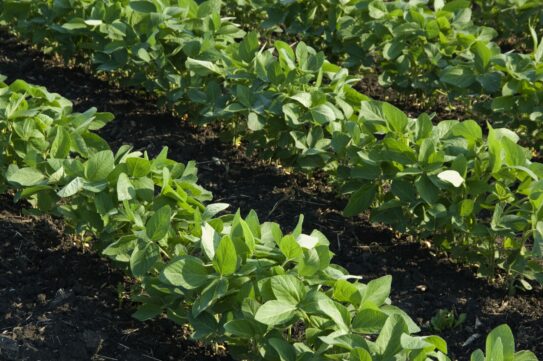 By Barb Baylor Anderson
Increasing yield and reducing production costs are imperative for greater soybean success in the Southeast. Farmers who grow high-yielding soybeans with multiple disease and pest resistance can achieve greater profits, particularly when beans are marketed to livestock and poultry producers who value the high-quality protein found in soy. A continuous pipeline of cultivars to produce disease- and pest-protected varieties is needed to maintain this competitive edge for growers in the Southeast.
With funding from the Georgia Agricultural Commodity Commission for Soybeans, researchers continue to develop varieties that meet these needs with more in the works.
"The Southeast has become a unique production environment for soybeans with its unique soil types and disease and pest problems. Weeds are a major issue. Also, soybeans can serve as a host for nematode species that attack other crops," says Zenglu Li, soybean breeder and professor for the University of Georgia and principal investigator for the research. "Resistance to root knot nematodes (RKN) and to soybean cyst nematode (SCN) is almost required."
Li notes in the Southeast, an estimated 36 million bushels of soybeans are lost each year to diseases and pests; 18 percent coming from SCN and 7 percent from RKN. Another 13 percent is lost to frogeye leaf spot.
Given the destructive potential of diseases, pests and insects and the cost of their control, Li has placed a priority on accelerating development of high-yielding, disease, pest and insect resistant soybean cultivars. The goal is to protect the stability of soybean yields in the Southeast. Checkoff-funded work at the University of Georgia also puts a priority on herbicide tolerance.
"We have developed and released more than 10 glyphosate-tolerant soybean cultivars in maturity groups VI-VIII and, more recently, glufosinate-tolerant cultivars for better weed control. All of these cultivars additionally carry resistance to SCN or root knot nematodes as well as frogeye leaf spot," he says. "We also are working on cultivars with multiple modes of action on weeds."
Strong soybean pipeline materials are being evaluated, each with resistance to the trio of pest and diseases mentioned above. To meet growing consumer soybean demand, researchers have developed three high oleic and low linolenic soybean varieties in 2020 that should be available soon to soybean farmers across the region, along with one conventional soybean variety.
"Southeastern soybean farmers are the primary beneficiaries of this research through not only the advanced herbicide-tolerant trait technologies we have licensed and nematode resistance we have developed but the accompanying reduced production costs and higher yields," says Li. "These soybeans also enhance profitability potential through expanded crop rotation options and fewer chemical inputs."
Published: Jul 27, 2020
The materials on SRIN were funded with checkoff dollars from United Soybean Board and the North Central Soybean Research Program. To find checkoff funded research related to this research highlight or to see other checkoff research projects, please visit the National Soybean Checkoff Research Database.