Research Highlights

Delaware Researcher is Finding Ways to Battle Palmer Amaranth with Cover Crops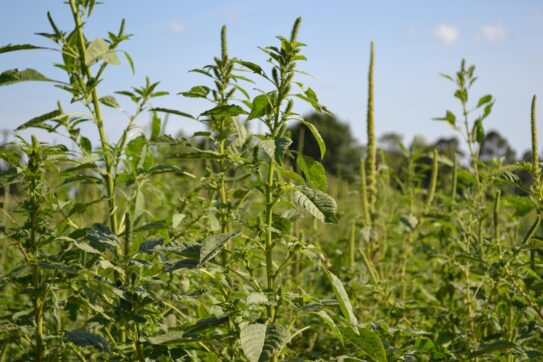 The noxious weed Palmer amaranth can put up a good fight with farmers in Delaware and many areas of the country. Scientists are researching ways to mitigate this prolific weed, as it competes with row crops for nutrients, sunlight and space, causing yield reductions in soybeans and corn.
Mark VanGessel, a weed science professor at the University of Delaware, is leading a research project to improve control of this weed and glyphosate-resistant horseweed in no-till fields through cover crop management and herbicide applications. Farmers in Delaware have been dealing with Palmer amaranth for five or six years, and once it lands in one area it spreads quickly, he said. The project is supported by the Delaware Soybean Board.
"We're trying to narrow in to offer better advice to farmers on how to best utilize their cereal rye cover crops for weed control," said VanGessel. "We know cover crops can reduce the number of weeds that emerge and slow the growth of those weeds, so we're trying to help the farmer reduce their herbicide input."
The research team is comparing cereal rye terminated four weeks prior to soybean planting, two weeks before planting and terminated the same day as soybean planting for weed suppression. After cover crop termination, they followed up with postemergence herbicide applications alone and in combination with a residual herbicide. He is also exploring how residual herbicides work with planting green, where soybeans are planted before the cover crop is terminated.
"We recommend terminating the cover crop as late as possible and applying a residual herbicide at soybean planting, regardless of when you terminate the cover crop," VanGessel said. "We recommend using two effective modes of action when applying the residual herbicides."
Fortunately, in this region there are a number of herbicides that are still effective against Palmer amaranth, he said, but they will not provide full-season control, especially if the cover crop was terminated early. The later the cereal rye is terminated the more biomass is available, which reduces the amount of sunlight getting to the small weeds; then less herbicide would be needed.
The challenge for farmers using cover crops for weed control, according to VanGessel, is the need for a uniform cover crop stand. With a poor cover crop stand, there may be patches of exposed soil, allowing weeds to grow in these exposed areas. Farmers could end up treating the whole field anyway to compensate for those weak spots, he said.
Delaware farmers have been using cover crops for nutrient management to help reduce nitrogen and phosphorus from entering the Chesapeake Bay, which contributes to poor water quality. Farmers in the Bay region are adapting and learning how to use cover crops more efficiently to improve nutrient management as well as to reap other benefits including erosion control and building soil organic matter.
"This is where extension programs in the region and our research fits in," VanGessel said. "We're building off of cover crop research we've already done. We're exploring different strategies and tactics to build on our cover crop knowledge to help farmers to be more successful."
The other objective in this project explores the effectiveness of control strategies for larger Palmer amaranth plants. VanGessel treated plots with large Palmer amaranth plants, from 14 to 16-inches tall, with several herbicides including Engenia, Enlist Duo, Reflex, Liberty and others alone and in combinations. They then evaluated the effectiveness of each at harvest by measuring the size of the weed and its seed production to determine best control.
VanGessel's results from two years of data show that sequential applications of dicamba, 2-4,D or Liberty are needed to get good control of the larger Palmer amaranth plants that are 14- to 16-inches tall. However, even with two applications seed production was not eliminated.
For more information about Palmer amaranth, download the fact sheet authored by VanGessel: https://cdn.extension.udel.edu/wp-content/uploads/2012/08/25153536/WF21-PalmerAmaranth_19.pdf
Published: Oct 12, 2020
The materials on SRIN were funded with checkoff dollars from United Soybean Board and the North Central Soybean Research Program. To find checkoff funded research related to this research highlight or to see other checkoff research projects, please visit the National Soybean Checkoff Research Database.