Research Highlights

Defining the Timing for Effective Insecticide Applications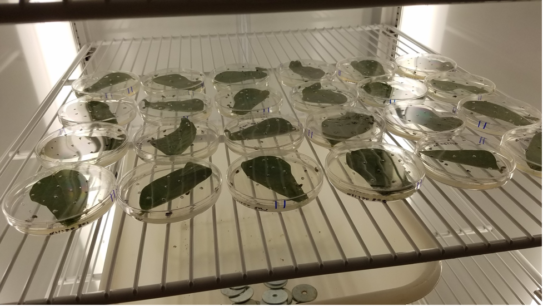 By Barb Baylor Anderson
Insecticides commonly used for broadcast applications in Illinois soybeans have had varied periods of residual activity. Insect species and environmental conditions also can affect efficacy. But an Illinois Soybean Association (ISA) checkoff program-funded research project is working to document the best insecticide application timelines and then share the information with farmers, so they are better informed when making in-season treatment decisions.
"The period of residual activity of most insecticides applied in soybeans is quite short. They are most effective as rescue treatments once the economic threshold of a particular pest has been reached, rather than as a preventative application," says Nick Seiter, University of Illinois field crop entomology research assistant professor and principle investigator for the research.
Seiter began to determine what the best insecticide application strategies are in 2020, treating two common soybean pests, bean leaf beetles and Japanese beetles. Both, he says, were present at their Urbana field site in sufficient enough numbers to conduct a robust evaluation.
"We conducted four small-plot insecticide efficacy experiments in the field and also the laboratory to assess the residual control provided by common foliar insecticides. The first two experiments focused on Japanese beetle and the final two focused on bean leaf beetle," he says.
Once spray applications were made, insect population densities were assessed in the field at three, seven and 10 days post-application. In addition, soybean defoliating insects were collected, brought to the laboratory, and placed and preserved in petri dishes.
The pests were introduced to the insecticide-treated foliage and observed after 24 hours of exposure until all of the insecticide-treated foliage no longer resulted in insect mortality. Insecticides evaluated on the two insects included Warrior, Endigo ZC and Endigo ZCX, Brigade 2EC, as well as Baythroid XL, Asana and Leverage 360.
"Like all potential yield robbers, we need the best management practices available at the time of infestation to make educated decisions about treatments and to make sure our response is sustainable and profitable. It pays to invest checkoff dollars in research that offers practical solutions," says David Wessel, soybean farmer from Chandlerville, Illinois, and ISA director.
Seiter will conduct a second series of field experiments during 2021. "We hope to replicate our studies on bean leaf beetles and Japanese beetles, as well as modify our method to test residual activity on stink bugs, green cloverworm and other pests," says Seiter. "We also need to perform further data analyses to estimate the average persistence of the materials from these field experiments and determine differences in defoliation levels among the treatments in the lab."
Ultimately, Seiter will develop a web-based platform that will provide the average residual activity across trials for all of the materials tested. The plan is to make the information available to farmers and crop advisers to help inform management decisions in Illinois soybean fields as farmers select the best materials based on their need for residual control.
Published: Nov 10, 2020
The materials on SRIN were funded with checkoff dollars from United Soybean Board and the North Central Soybean Research Program. To find checkoff funded research related to this research highlight or to see other checkoff research projects, please visit the National Soybean Checkoff Research Database.