Research Highlights

Creating Tools to Identify and Rescue Poorly Nodulated Soybeans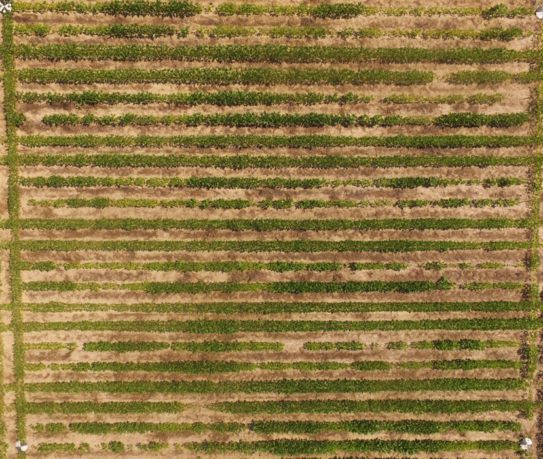 By Barb Baylor Anderson
Deficient soybean nodulation can cause dramatic yield loss due to nitrogen deficiency. In South Carolina, researchers believe development of diagnostic tools from image analysis, coupled with the rapid advancement and availability of aerial imagery, could become an important nitrogen deficiency scouting tool for the state's farmers to identify and rescue poorly nodulated soybeans.
"State checkoff investments are valuable to soybean farmers, especially in the supply area. Our South Carolina climate and soils give us different production challenges than other soybean-growing areas, so our best management practices are unique. Having the state portion to invest lets us fund fertility, pest and weed management programs that benefit our particular problems," says Woody Green, soybean farmer from Lynchburg, South Carolina, who serves on the South Carolina Soybean Board and the United Soybean Board executive committee.
"We are in the early stages of creating software that will convert aerial images into customized fertilization plans. We will provide a baseline for diagnostics and variable rate nitrogen prescriptions based on aerial imagery or tissue analysis so farmers can recover yield from poor nodulation," says Kendall Kirk, Clemson University precision ag engineer and co-principle investigator for the South Carolina Soybean Board project. "We will eventually have a platform for diagnostic imagery for several challenges, including nutritional deficiencies and disease."
To create known levels of nitrogen deficiency for analysis, in-field trials were established beginning in 2018 using a soybean mutant that could not perform nitrogen fixation. The research plot included 12 treatments with three levels of nitrogen arranged in six complete randomized replicates. Height and normalized difference vegetation index (NDVI) were measured during the season and aerial images periodically captured leaf color and leaf nitrogen content.
As expected, results showed addition of nitrogen resulted in taller and greener plants. The lowest rescue application rate of 80 lbs. per acre gave the best result, which Nathan Hancock, plant biologist and principle investigator from the University of South Carolina Aiken, says suggests higher nitrogen application rates may induce stress or burning. These significant differences in plant health associated with nitrogen were also observed in chlorotic patches in South Carolina farmer fields, suggesting the patches were nitrogen deficient due to poor nodulation.
Researchers analyzed the canopy color, nutrition levels and yield of the plants to calibrate the model and determine what fertilization rates would make economic sense. The model in 2018 showed a good correlation between visual characteristics and leaf nitrogen. They were unable to collect similar data in 2019 but are compiling the data obtained in 2020.
"We anticipate we will have a good correlation this year like we saw in 2018, but the verdict is still out," says Hancock. "This year's data will be able to tell us if rescue nitrogen application is cost effective. Ultimately, the research will allow us to determine how much nitrogen is required to rescue poorly nodulated soybeans. We will measure yield to determine what effect the nitrogen application had and calculate the economic feasibility of nitrogen application."
While promising, Hancock says turning the model into a diagnostic tool will take some time.
"One hurdle is that there are other things that can cause chlorosis and we need to see if we can differentiate them," he says. "We are finding examples in the field where nitrogen deficiency was the problem. But we need to collaborate with scientists across a larger region to determine how widespread the problem is and how to apply solutions across different conditions."
Published: Dec 7, 2020
The materials on SRIN were funded with checkoff dollars from United Soybean Board and the North Central Soybean Research Program. To find checkoff funded research related to this research highlight or to see other checkoff research projects, please visit the National Soybean Checkoff Research Database.