Research Highlights

Could Soy Help Cattle Breathe Easier?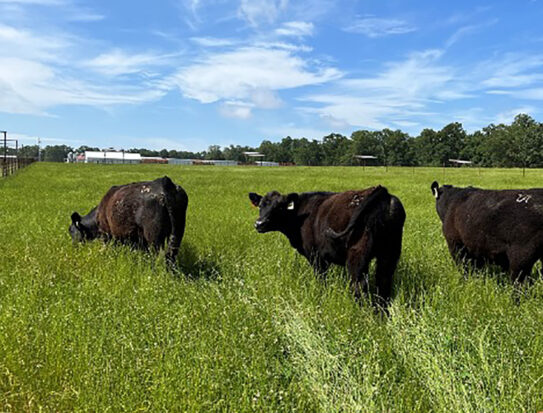 By Laura Temple
Bovine respiratory disease, or pneumonia, often attacks beef cattle — especially calves — under high stress. Farmers rely on antibiotics to help cattle regain their health, but treatment is expensive and calls to reduce antibiotic use in livestock continue to increase.
Beth Kegley, animal nutrition professor at the University of Arkansas, explores interactions between diet and health in beef cattle. She led a team investigating how soy ingredients may impact stressed calves at high risk of developing pneumonia. The Arkansas Soybean Promotion Board funded their pilot study.
"Other ways exist to manage calf health without antibiotics," she says. "We took a fresh look at how soybean meal and soybean oil impact health of beef calves under stresses that often lead to pneumonia."
Kegley explains that in the current beef production system, calves are exposed to an abundance of unfamiliar pathogens when they are moved from their birth environment. The combination of changes, stress and new diseases makes them vulnerable to developing pneumonia.
Inflammatory Response in Beef Cattle
To effectively fight those foreign pathogens, calves need to have an aggressive response to them. That response includes inflammation and fever that support their immune systems in isolating and fighting viruses. However, if their response is too aggressive, their bodies attack healthy tissue.
"We don't want to stop inflammation, but we do want calves to be able to quickly respond to a bug and then clear their systems," Kegley says. "Antibiotics help do that. Specific fatty acids also influence inflammation, with both pro- and anti-inflammatory activity."
Research in other livestock species has produced interesting data about fatty acids found in soy-based feed ingredients. Soybean products contain high levels of omega-3 and omega-6 fatty acids, which have been linked to health and performance benefits.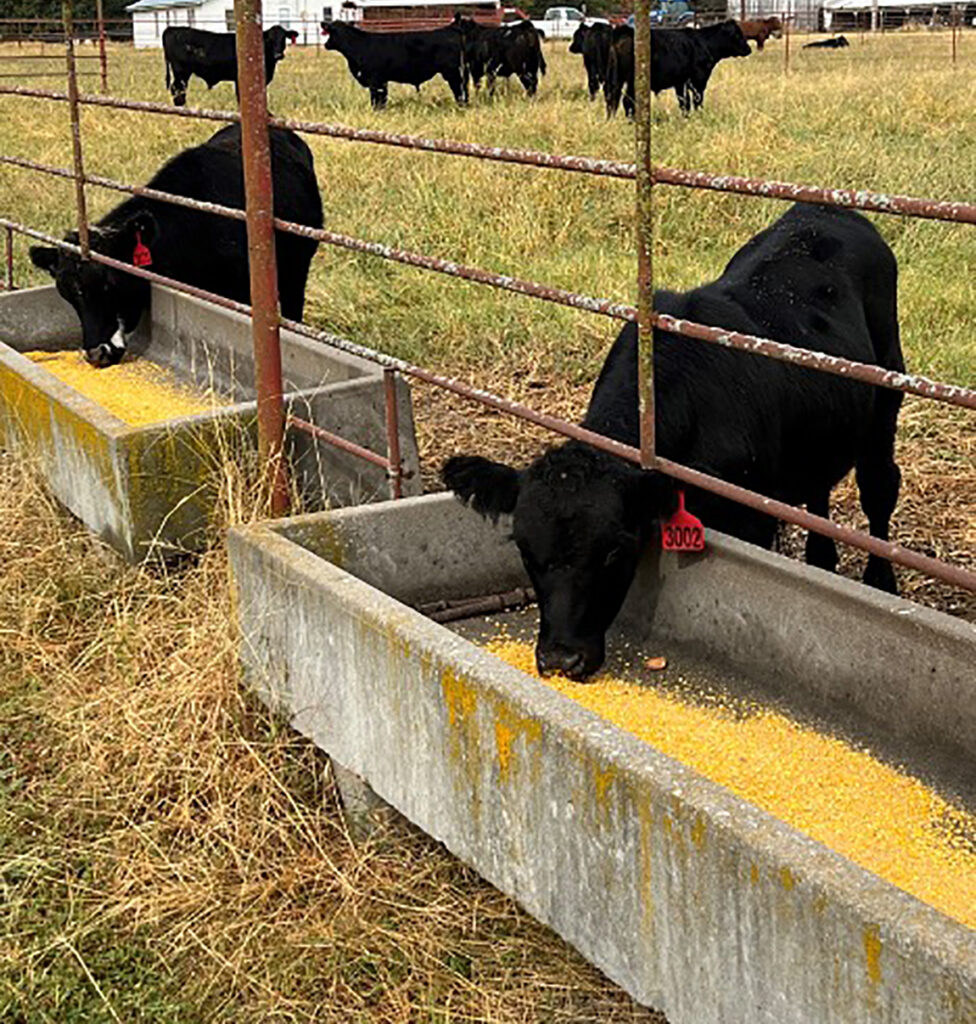 "Feeding products high in fatty acids has effects on inflammation and overall health in both humans and livestock," she continues. "However, very little work has been done with soy in ruminants. It may be possible that there could be an opportunity to supplement high-risk cattle with soybean products."
According to Kegley, the microbes in ruminant stomachs change dietary fats into free fatty acids with different structures. With soy, this digestive process transforms components like linoleic and linolenic acids into different free fatty acids that the ruminant environment can't break down for energy because no oxygen exists in the rumen. These changed free fatty acids pass from the rumen to the intestine and are absorbed by the animal. They then may be used for energy or for other purposes. Her team is learning if digesting soy produces free fatty acids in beef cattle that impact their response to stress.
Testing Soy Supplements
Kegley's team performed two pilot trials to begin determining the effects of soy products on beef cattle health and inflammatory response. One trial monitored healthy calves before and after inducing stress that would mimic a pathogen. The second recreated a stocker-cattle environment and monitored how they responded to those typical stresses.
In both trials, groups of grazing cattle received one of three supplemental diets. One used soybean meal as a protein source. Another incorporated the maximum manageable level of soybean oil as a source of energy. The control diet contained the same amount of protein and energy, but no soy products.
In the first trial, 36 healthy, weaned calves with similar genetics grazed for 56 days while receiving 6 pounds per day of a grain supplement containing the test diets. None of these calves got sick during this phase of the trial. At the end of this feeding period, the calves received an injection designed to force an inflammatory response. Then researchers monitored them to see how their systems managed that challenge.
Prior to the inflammatory challenge, the groups of calves showed no differences in growth performance. As Kegley's team monitored them following the challenge, they began to see differences in their blood content and inflammatory response that required additional analysis.
In the second trial, the team acquired 274 calves from regional sale barns. While they grazed and received one of the supplemental diets, they were monitored and treated for sickness according to industry best practices.
"As herd animals, cattle are good at hiding signs of sickness until late in the disease cycle," Kegley says. "We treated calves with elevated body temperatures using antibiotics."
Her team is still analyzing data from this trial to see if including soy in the diets caused any changes in the rate of sickness or need for antibiotic treatments.
"This pilot project is the first step in determining if there is something in soy that influences cattle inflammatory response," she explains. "If soy does impact the need to treat for pneumonia, that could justify paying to include it in rations, rather than using least-cost ingredients."
Published: Apr 10, 2023
The materials on SRIN were funded with checkoff dollars from United Soybean Board and the North Central Soybean Research Program. To find checkoff funded research related to this research highlight or to see other checkoff research projects, please visit the National Soybean Checkoff Research Database.