Research Highlights

Controlling Weeds in South Dakota Soybeans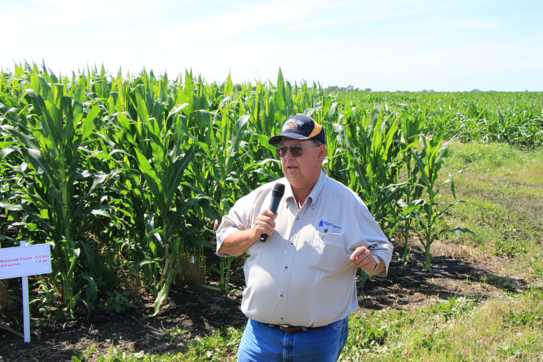 By Barb Baylor Anderson
Herbicide-resistant and difficult-to-control weeds cause yield loss and significant management costs to South Dakota soybean farmers. That is why the South Dakota Soybean Research and Promotion Council has invested checkoff funds over the years in evaluating the best options for weed control. More issues are developing with use of glyphosate, dicamba and other chemistries.
"Resistance is a concern. The first thing farmers should do each year is plan a good program starting with a preemergence product to significantly improve control. Look at a variety of possibilities with traits and chemicals and have a conventional backup plan," says Paul Johnson, South Dakota State University (SDSU) weed science coordinator and project researcher.
Weed specialists helped establish demonstration plots the last couple of years in three areas of South Dakota to highlight today's best herbicide options and application timings for resistant weed control in soybeans. They also assessed alternative herbicide treatments on glyphosate-resistant waterhemp by exploring more modes of action. Researchers continue assessment of the agronomic traits offered by Xtend and Enlist soybean varieties and also are exploring simulated drift on non-dicamba soybeans to determine any effects on yield.
"What we have learned for resistant waterhemp is that you should apply a preemergence herbicide and then use a trait seed program," says Johnson. "Balance (active ingredient isoxaflutole) is effective for long-term preemergence control and Liberty, Enlist or Xtend will work as long as weeds are sprayed in the 2-4-inch range. Bigger weeds see less control."
Work specific to dicamba includes where it may be the best fit in South Dakota. So far, Johnson says it is critical for controlling heavy kochia pressure and for kochia resistant to Group II and glyphosate chemistries. He says farmers can use dicamba in rotation with other products.
"We will take and share from these and other plots data on weed efficacy, crop injury ratings and yield. Cost of treatment will also be calculated," says Johnson. "Farmers can find the results in the annual SDSU Extension WEED Project Data book and in an updated weed control section of the SDSU Pest Management Guide-Soybeans and IGrow Soybean Production manual."
Finally, Johnson notes two processing plants in South Dakota are now purchasing non-GMO soybean varieties. He advises farmers who want to take advantage of the premium programs for conventional soybean production to plan an effective weed control program in advance.
Published: Sep 9, 2020
The materials on SRIN were funded with checkoff dollars from United Soybean Board and the North Central Soybean Research Program. To find checkoff funded research related to this research highlight or to see other checkoff research projects, please visit the National Soybean Checkoff Research Database.