Research Highlights

Controlling Waterhemp with Soil Residual Herbicide Micro-Rate Combinations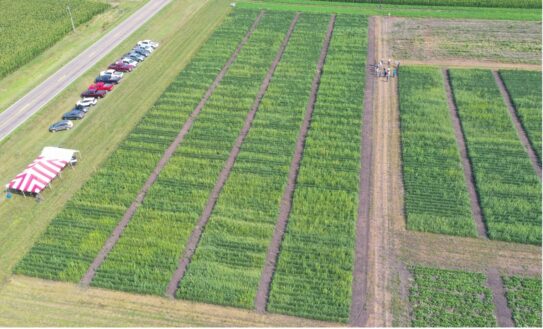 By Barb Baylor Anderson
Soybean farmers face a double-edge sword when it comes to tough weed control – the desire to reduce input costs while controlling herbicide-resistant weeds like waterhemp but at the same time battling new resistant weed biotypes with the same limited postemergent herbicide options.
"Misapplication and overuse of post-emergent herbicides has led to selection pressure in waterhemp populations," says Andrew Lueck, Next Gen Ag LLC, Renville, Minnesota, and principal investigator for research funded by the Minnesota Soybean Research and Promotion Council. "Soil-applied residuals are effective because they attack weeds at emergence, the most vulnerable stage of growth. A micro-rate soil-applied residual herbicide program could reduce cost and soybean injury while providing effective waterhemp control with increased sites of action that decrease selection pressure in waterhemp and likely other troublesome weeds."
Lueck tested whether using four different active ingredients instead of one or two would combat the likelihood of further herbicide resistance being developed and still provide excellent waterhemp control. Over the last three years, Next Gen Ag LLC expanded from screening individual products to experimental tank mixes applied pre-emergence to the best tank mixes applied pre- only and as different combinations of a two-pass pre- followed by early post-emergence at V2.
"We tested more diverse combinations of herbicides at lower rates while maintaining 90 percent waterhemp control and keeping treatments within a cost range of $20 to $40 per acre," he says.
A 40-treatment industry comparison with seven companies represented by three entries each was compared with Next Gen Ag micro-rate treatments and farmer-requested treatments with an average cost per treatment of $39 per acre. Average cost of all five micro-rate tank mixes tested was $30.63. Lueck says the second most affordable micro-rate treatment averaged 94 percent waterhemp control at canopy as a pre- only and 98 percent with one component applied at V2.
Waterhemp control at soybean canopy on all 20 micro-rate treatments/timings ranged from 75-99 percent and averaged 93.1 percent control, Lueck reports. Pre-emergence followed by early post combinations averaged 92.9 percent while pre- only combinations averaged 93.3 percent. Lueck says future research may include moving other residual components to V2 applications in soybeans to split up the pre-emergence herbicide load and extend the treatment residual.
"In this era of change, every question answered leads to a dozen new ones. Our checkoff investment is crucial to helping researchers tackle problems as they arise and come up with solutions that benefit farmers and industry partners that support them," says Glen Groth, a farmer from Ridgeway, Minnesota, and Minnesota Soybean Research & Promotion Council director.
Based on the work to date, Lueck offers his top five waterhemp control tips for farmers:
Spend money up front on pre-emergence (60 percent-plus) to allow decisions on post timings to be calculated rather than anticipatory. Many pre-emergent residual herbicides are dependent on soil type and organic matter, so read labels and know your soil types.
Stop cutting full-labeled pre- rates unless you are going to put at least one more additional residual product in the tank to supplement it.
Make decisions based on your farm and weeds. Experts from different regions with different soil types, weather patterns and weed pressure should not impact your decisions.
Don't be afraid to try something new, like micro-rates, on small acreage to see what happens even if you assume some liability. On-farm research and experimenting are the best ways to get answers to improve your operation and weed control programs. It may require more of your time one year, but it may save you thousands the next.
Additional tips and summaries of other soybean checkoff funded trials since 2016 can be found at www.nextgenagllc.wixsite.com/researchmn under the publications tab.
Published: Sep 20, 2021
The materials on SRIN were funded with checkoff dollars from United Soybean Board and the North Central Soybean Research Program. To find checkoff funded research related to this research highlight or to see other checkoff research projects, please visit the National Soybean Checkoff Research Database.