Research Highlights

Breeding High-Yielding Soybean Cultivars for Iowa Farmers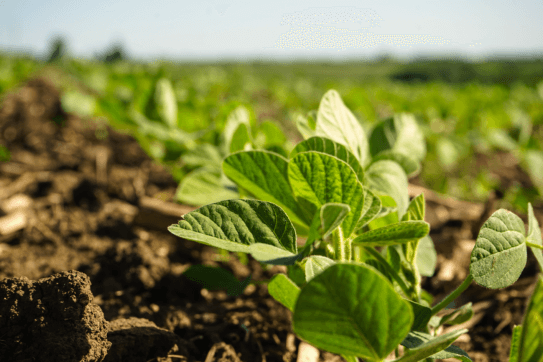 By Barb Baylor Anderson
Soybean researchers in Iowa have long successfully provided genetic solutions for farmers to meet ever-changing agronomic requirements while increasing yields and profitability. That includes multi-year research effort funded by the Iowa Soybean Association and led by Asheesh (Danny) Singh, soybean breeder and geneticist at Iowa State University. Singh heads a team that focused on increasing yield while lowering input costs in a challenging economic environment.
"We are trying to build a better soybean: one that is high yielding, takes fewer resources and is more resilient to adverse climatic conditions like water stress," says Singh. "We are working on data analytics to chart out 10-, 20- and 30-year horizons for what soybeans will experience on farms and to determine how we can build the right package for farmers."
Singh and his team have in the past disclosed 18 new varieties to the Iowa State University Research Foundation that were supported by the Iowa soybean checkoff. Some of the varieties are now undergoing seed production with performance in statewide tests that Singh describes as "very good." Results are publicly available through Iowa Crop Performance Test reports.
"Additionally, we have developed novel insights in breeding and soybean research and published it so other researchers can benefit and develop other varieties and tools," he says.
Singh is currently also working on an improved package of disease and insect resistance in a high yield background. Soybean breeding programs are attempting to stack multiple defense traits against pests and diseases by incorporating resistance genes. He also is exploring improved water use efficiency, increased meal protein content and food quality traits for specialty markets.
"Our research efforts include use of state-of-the-art tools like drones, automation, sensors and data analytics to improve program efficiency and success. We are also investigating prescriptive plant breeding using machine learning to develop beans that are developed for different farm management systems, such as row spacing," he says.
They also are tapping genetic variations to bring in genes that can further increase yield and are performing critical root traits studies which have previously lacked attention.
"Ultimately, our goals are to improve output and positively impact Iowa farmers and the ag industry through development of new cultivars and germplasm, gene discovery, research insights on pertinent topics of importance to farmers, processors and consumers, and develop selection strategies that lead to higher yield and products that improve market penetration," says Singh.
Published: Aug 11, 2020
The materials on SRIN were funded with checkoff dollars from United Soybean Board and the North Central Soybean Research Program. To find checkoff funded research related to this research highlight or to see other checkoff research projects, please visit the National Soybean Checkoff Research Database.