Research Highlights

Assessing the Fertilizer Fit of Poultry Litter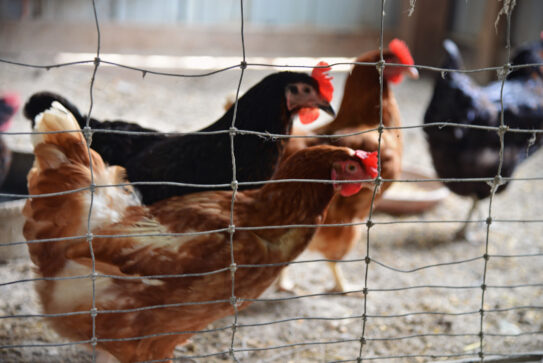 By Laura Temple
Does applying poultry litter to soybeans at planting waste that nitrogen (N)? Will that litter suppress or enhance soybean yield? Do the micronutrients in poultry litter impact the crop?
In regions where poultry litter is readily available, crop farmers have questions about using it as fertilizer, says Shawn Hawkins, professor of biosystems engineering and soil science for the University of Tennessee Institute of Agriculture. He has been working with his colleague Angela McClure, professor and corn and soybean extension specialist, to find answers.
"Farmers need data to help them understand the value of alternative fertilizers like poultry litter, especially when considering it for the first time," he says. "To answer those questions and provide unbiased data, we have been studying the direct application of poultry litter to soybeans and its use in corn-soybean crop rotations."
The Tennessee Soybean Promotion Board funds Hawkins' soybean research. An industry partner supports the corn portion of the rotational study, with supplemental funding from the soy checkoff for the soybean portion. These multi-year projects have yielded practical insight on fertilizing soybean and corn with poultry litter.
"Like with any input, if producers are considering poultry litter, they should figure out how to maximize its value," he explains. "Core agronomics should drive the use of litter. It should be applied to fields that need phosphorus (P) and potassium (K), according to soil tests, realizing that when applied directly to soybeans, the litter N likely has a marginal benefit."
Based on his research, he considers poultry litter a legitimate fertilizer option for direct application to soybeans at planting.
Direct Fertilization
For three years, Hawkins and McClure observed the impact of applying poultry litter just before planting soybeans. Each year, his plots moved to a new location without a history of litter application.
Those plots compared poultry litter application at 1, 2 and 3 tons per acre to a combination of synthetic mineral fertilizers providing P, K and sulfur (S) equal to a 2-ton litter application. The study also included a negative control with no fertilizer of any kind. They measured yield, soybean nodulation, nutrient content of trifoliate leaves collected at the R2 growth stage and nutrient content of harvested grain.
"We chose litter rates producers would use," Hawkins says. "From their perspectives, it isn't worthwhile to exactly match the poultry litter application rate to their expected crop nutrient removal rate or exact soil test need. They will simply apply a set rate across a field, usually in even tons per acre."
Throughout the study, yield did not vary significantly across the treatments used, emphasizing the importance for soybean producers to carefully control fertilization costs. If they can obtain litter cost-competitively on a nutrient-analysis basis, it can reduce current and future input costs.
Interestingly, the study did reveal significant treatment differences in the soybeans' micronutrient content. Poultry litter increased concentrations of S in both trifoliate leaves and harvested grain. They also measured higher concentrations of boron (B), copper (Cu) and zinc (Zn) in either leaves or grain.
"That indicates that the S and other micronutrients in poultry litter are readily available to plants," he explains. "Thus, if litter is used as soybean fertilizer, farmers don't need additional micronutrient applications."
Hawkins also explored the impact of the N in poultry litter on the physical attributes of soybean plants. He observed no effect on nodulation. However, the soybeans in plots fertilized with litter grew significantly taller than the other plots.
"The take-home message is that if farmers can get litter cost effectively, they should consider applying it directly to soybeans, especially if their soil tests indicate a need for both P and K," Hawkins says. "Litter provides P, K and a host of micronutrients, as well as organic matter that will help improve soil tilth. It can be used as a direct replacement for mineral fertilizers."
Use in Crop Rotations
In a second study that started in 2019, Hawkins looked at the value of poultry litter applied before corn planting for both that crop and soybeans the following year. He applied litter to no-till corn at rates between 2 and 7 tons per acre at two locations. The following season, soybeans in those plots received no additional fertilizer.
"While corn yields increased with fertilizer application rates, soybean yield remained consistent across all treatments," Hawkins reports.
However, he says plant tissue concentration of P, K, B, Cu, S and Zn increased in both crops with the use of poultry litter.
"The data show the nutrients in the litter were available to both corn and soybeans," he says. "Regardless of system use, direct application to soybeans or application to prior-year corn, poultry litter provides P, K and micronutrients for soybean production."
In addition to yield and nutrient concentrations in both crops, he measured soil qualities like organic matter, carbon content and aggregate stability. He notes most of the enrichment remained near the soil surface because of the no-till system used on the highly erodible soils in the region.
"Both studies show that poultry litter can fit well as a fertilizer into our agronomic systems," Hawkins says. "A minimalist approach can be profitable, and producers can get the most out of litter if applied to a 2- or 3-year nutrient removal level, when soil tests indicate soybeans and corn need P and K."
Published: Aug 14, 2023