Research Highlights

Arkansas Farmers Get Help Improving Irrigation Management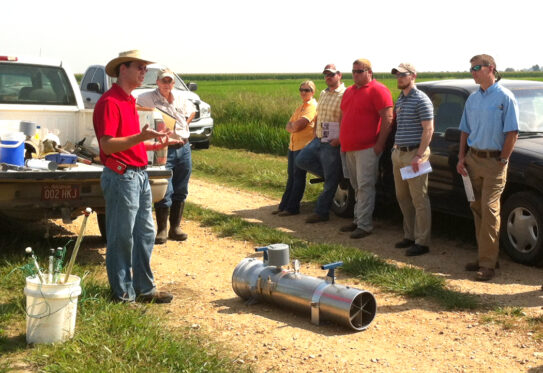 By Carol Brown
Arkansas farmers could benefit from a crystal ball when it comes to making irrigation decisions on their farms. They probably would ask it what type of irrigation method to use and, more importantly, when to use it and for how long. But this is reality — the answers to these questions must be science-based.
Chris Henry is an associate professor and irrigation water management engineer at the University of Arkansas. He is working hard to inform farmers across the state about proper irrigation without that crystal ball. Through the research project, "Promoting Irrigation Water Management for Soybeans," supported by the Arkansas Soybean Promotion Board, he is providing farmers with the tools to overcome irrigation challenges.
"The whole goal is to help farmers get over that learning curve hump and learn a better way to irrigate," Henry said.
Going to school
It starts in the winter with irrigation school. Farmers can enroll in a one-day comprehensive course on irrigation. They learn about surge irrigation and how to program surge valves under scenarios for different soil types and conditions. They also get the basics about soil physics to understand soil water holding capacity, which connects with soil moisture sensors and how they work. Class participants actually build sensors, then go outside and install them.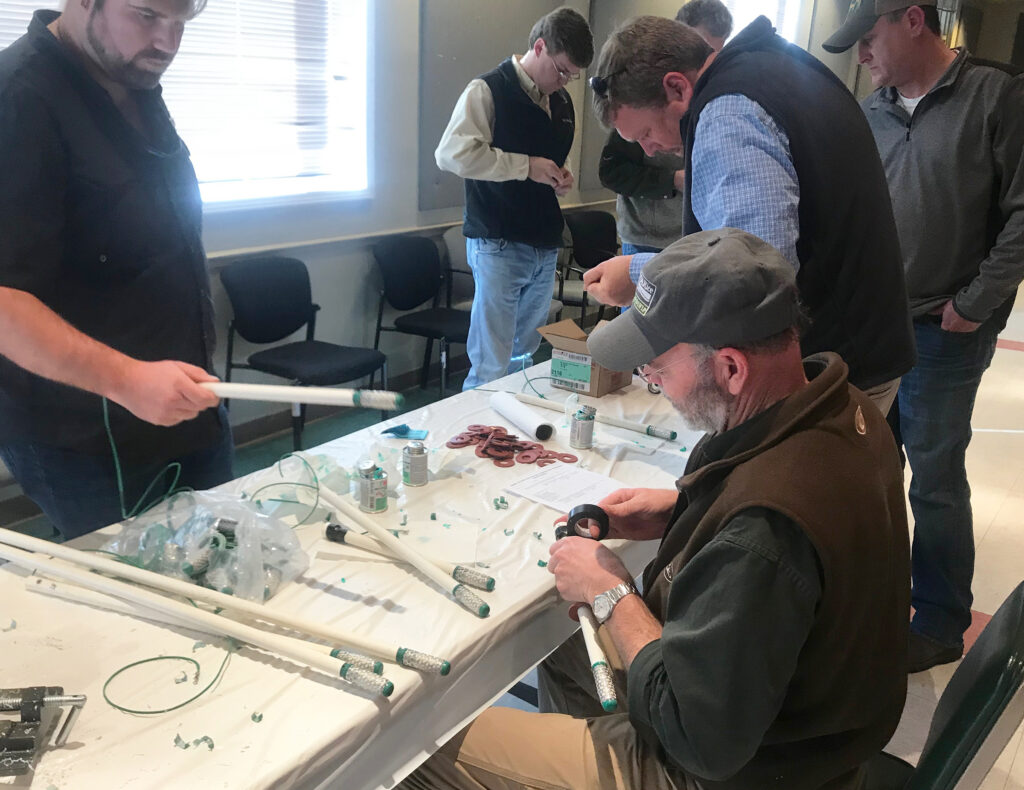 "We spend hours on surge irrigation, which can improve producer efficiency," Henry said. "Soil moisture sensors help farmers know when to irrigate. There is a feedback mechanism in place so they can see how well they actually did in improving their efficiency."
The instructors take class participants through the entire process, so when they leave at the end of the day, they have the fundamental knowledge needed to use the irrigation methods well.
"We give them the basic tools to get started. They literally walk out the door with everything they need," he said.
Irrigation Yield Contest
This knowledge leads to another part of Henry's outreach for irrigation success. This growing season is the third annual Irrigation Yield Contest. The Arkansas Soybean Promotion Board, along with the state corn and rice boards, sponsor the contest. The top farmer for each category — soybean, corn and rice — who has achieved the "most crop per drop" is awarded a cash prize. Many of Henry's irrigation class participants enter the contest.
The Irrigation Yield Contest, facilitated by Irrigation Program Associate Greg Simpson, is similar to a traditional yield contest but with an added water measurement component. The irrigator with the best water use efficiency (WUE) and a commercially viable yield is named the winner. Water use efficiency is the estimated yield divided by total water received by the field, which includes rainfall and irrigation.
"We seal the flow meters in a way that aren't easily removed, so we know the water going to a particular field was from only that source we measured," Henry said. "We have local NRCS and Extension folks serve as supervisors who can help the farmer along the way as well as help with the yield checks."
The 2019 champion for soybeans was Poinsett County farmer James Wray, whose winning results were 112 bu/acre and a WUE of 4.3 bu/acre-per-inch. Wray used soil moisture sensors in his contest entry field, and it was the best yielding soybean field he had, Henry said.
Wray grows soybeans, corn, rice and cotton on approximately 6,500 acres. After using the soil moisture sensors, he found he had been irrigating his soybeans way too much and over-watering his corn acres as well.
"This year, I've already cut out two irrigations I would have normally done if I hadn't used the soil moisture sensors," Wray said. "That is saving me diesel fuel costs; I'm preserving groundwater and have much less runoff."
Wray's experience serves as an example for others who are irrigating without using sensors.
"I'm definitely learning all the time," Wray said. "I wanted to know how to irrigate better, which is why I entered the contest. I wanted to learn from the expertise of Chris, Greg Simpson and the University of Arkansas irrigation specialists. Having their boots in my field will help me do better."
Wray uses surge irrigation on nearly all of his fields. Using Pipe Planner software along with the soil moisture sensors he can go beyond a visual check to determine irrigation timing and amounts.
"It's not just seeing heat stress on the plant, it's actually finding how much water that's available to the plant," Wray said. "I've made changes to increase soybean root mass, root hairs and growing roots deeper so they can reach water available in the soil so I don't have to apply as much on the surface."
Every Irrigation Yield Contest entrant receives an anonymous report card, so they know what their WUE was relative to the other contestants, Henry said. "Even if they don't win the prize, everyone comes out a winner. Everyone thinks they are a good irrigator, but the proof is on the report card."
Other ways to improve irrigation efficiency
Henry's work is far from done with these two events. He also develops mobile apps to aid with irrigation decisions. He has developed an app that works with the soil moisture sensors.
"The app works with Watermark™ soil sensors," Henry said. "It basically converts the sensor reading into the number of days before we need to start the pump again. It accounts for different soil types and conditions. We developed our own water retention curves for the app, which was partially funded by the Soybean Board."
The background work for this app development has been figuring out the water usage by soybean growth stage. Henry has been researching soybean sap flow. He and researchers Leo Espinoza and Mukhammadzakhrab Ismanov have realized soybeans use more water than what has been published by others in different regions.
"We've found that soybean plants in the south use more water than our book values," he said. "When the plants get to the last growth stage, around R6½, the estimates were not enough based on what we've found in maturity groups IV and V."
Henry has made these adjustments in the mobile app as well as in their published fact sheets. The app now has better estimates of how much water it will take to finish a crop, which is important for saving irrigation water.
Farmers can download the app by searching Arkansas Watermark Soil Sensor Calculator in the Apple App Store (for Apple) or in the Google Play Store (for Android systems).
Making irrigation decisions can seem like fortune-telling. Tools such as soil sensors can provide farmers with this kind of crystal ball information to help make irrigation decisions. Learning how to irrigate more efficiently can help producers manage water usage and its associated costs. Henry's work has been invaluable to help farmers get the information they need to make better-informed irrigation decisions.
For more information about the Yield Irrigation Contest visit: https://www.uaex.edu/environment-nature/water/contest/
Published: Jul 27, 2020
The materials on SRIN were funded with checkoff dollars from United Soybean Board and the North Central Soybean Research Program. To find checkoff funded research related to this research highlight or to see other checkoff research projects, please visit the National Soybean Checkoff Research Database.