Research Highlights

Ag data literacy is a necessity for farming

By Carol Brown

The profession of farming requires farmers to be knowledgeable in many occupations. They need to be agronomists, economists, mechanics, marketers, meteorologists and now farmers need to add "information technology specialist" to the list.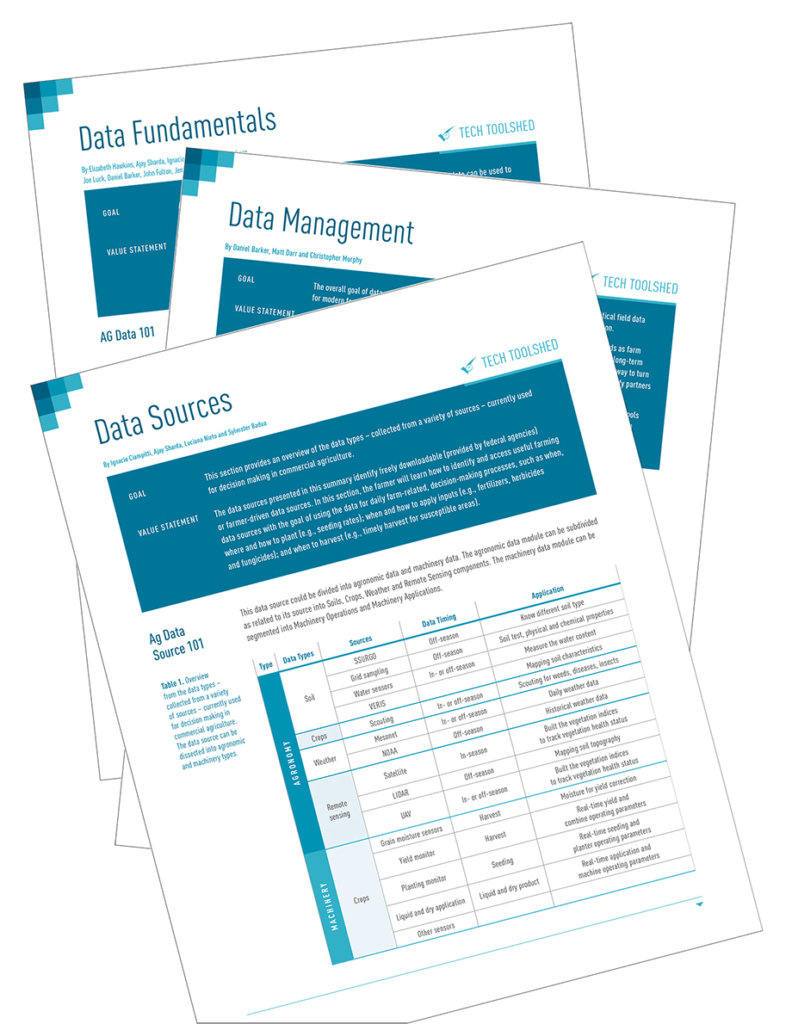 From planting to harvest, everything a farmer does can be linked to computer-generated data: soil moisture and fertility levels, how much and where fertilizer gets applied, seeding rates, yield maps, as well as business inputs and expenses. The data generated through a single farm operation can be significant. This leads to questions farmers didn't have to ask before: Where does one store all this data? How long should it be kept? How can it help with farm management? How secure is it?
The United Soybean Board (USB) realized these were important issues and facilitated a project to help farmers wrangle all this information. John Fulton, an associate professor at Ohio State University, led a group of researchers from five institutions to develop a data literacy kit.
"We use the term 'digital technologies' to define the tools that require the utilization of farmer data to bring back information to help in farmer decision-making," Fulton said. "Farm data is required to enable these services or tools to work."
Precision soil maps, for example, generate data from an individual field. That data, Fulton said, is passed to a tool that provides insight, information or recommendations back to the farmer. The research team looked at many digital platforms and apps where data is uploaded and provides useful information back to the farm.
Organizing a mountain of information
So how does one break down the mountain of data into manageable information? What do farmers need to know to be confident with their data? These were the challenges Fulton and his team faced.
"We wanted to work at the grassroots level to understand how farmers are engaging the digital evolution of ag," Fulton said. "We had engineers, agronomists, ag economists and consultants at the table – a suite of disciplines represented. As a team, we each selected a topic by expertise to research and create educational information."
The team broke down the areas of digital technologies into six categories, which they called the Six Pillars of Data Literacy. Each team member developed a white paper on their topic, or pillar, and with the help of USB, also developed a two-page information sheet on each of the six pillars.
In addition, USB created a data literacy kit on a flash drive that included curriculum and presentation material, information resources, and the two-page information sheets. The flash drives were distributed to farmers at conferences and meetings across the country.
"We also hosted a webinar for those interested in agriculture that walked through each of the pillars," Fulton said. "Team members presented an overview of the project and talked specifically about each pillar, the value proposition of farm data for a farmer, and important aspects a farmer needs to consider related to their data."
The two-page publications on the six pillars are housed on USB's Technology Toolshed resources webpage. The webinar is on YouTube, segmented into six episodes and also as a single webinar.
The Six Pillars of Data Literacy are listed below with a link each individual white paper on the USB website.
Published: Jan 30, 2020
The materials on SRIN were funded with checkoff dollars from United Soybean Board and the North Central Soybean Research Program. To find checkoff funded research related to this research highlight or to see other checkoff research projects, please visit the National Soybean Checkoff Research Database.