Research Highlights

Advancing the Herbicide Resistance Battle of Palmer Amaranth with Genetics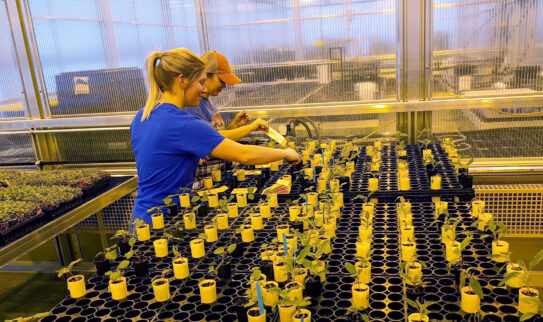 By Carol Brown
For farmers in North Dakota, a weed has recently reared its ugly (seed) head. Palmer amaranth, an invasive weed in the pigweed family, has been intensifying in the state within the last few years.
Zack Bateson, a research scientist with the National Agriculture Genotyping Center (NAGC) in Fargo, is working with seed scientists, seed companies and other researchers to help them identify Palmer amaranth seed and its possible herbicide resistance through studies supported by the North Dakota Soybean Council.
"Palmer amaranth became of interest to us at the Center in 2018 when it was first reported in North Dakota," Bateson says. "It can be tricky to identify a Palmer amaranth seedling in the field, as it can look like its relatives within the pigweed family. Palmer amaranth seed also looks identical to waterhemp and other pigweed species including redroot pigweed and Powell amaranth. To help identify pigweeds in the field and contaminated crop seed, we developed a test that genetically distinguishes them from one another."
Identifying weeds is important for farmers, especially when herbicides aren't fully effective. It's also crucial for weed specialists and seed companies to know what kind of weed seeds they have in their seed pool. One of Bateson's research projects includes looking at the genetic markers of several pigweeds to identify which plants may be resistant to certain herbicides.
"We're collaborating on a project with Drs. Joe Ikley and Michael Christoffers in the North Dakota State University's plant science department," says Bateson. "We've conducted a survey to look at seed collections from 50 populations of pigweeds in eastern North Dakota for herbicide resistance identification."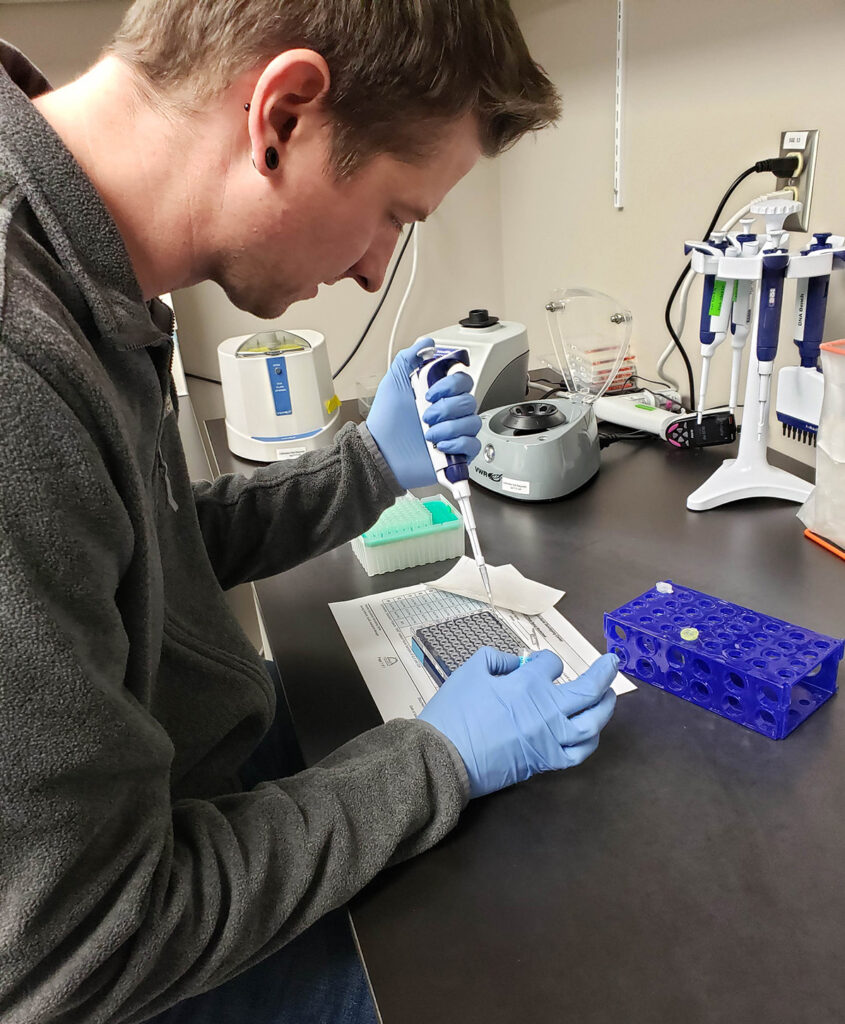 From those collections, the NDSU weed specialists shared leaf samples with Bateson. They then grew weeds in NDSU greenhouses from the seeds of those collected plants. The weeds were sprayed with herbicides including a PPO-inhibiting herbicide, an ALS-inhibiting herbicide and glyphosate to see which plants survived.
Bateson and his team are looking at the genetic data from the original leaf samples (the parent plant) as well as the greenhouse samples (their offspring) and comparing their genetic test results to the greenhouse-grown weeds and their reactions to the three herbicide applications. They have preliminary data from glyphosate resistance testing and will continue with the other herbicides in the same fashion.
"With a previous glyphosate trial, we saw a 90 percent agreement between the greenhouse results and what we were seeing genetically," Bateson says. "The remaining 10 percent disagreement could be from other genetic markers associated with glyphosate resistance that we're not testing for now, but we will be developing."
The NAGC tests use DNA-based markers, and they can pool up to 200 seeds in a genetic identification test. The tests take a few days at the most, but they can turn around specific tests in a day if needed.
"These genetic tests are helpful for the seed labs and seed companies when they receive seed samples from fields," he says. "We can extract the DNA and tell them what pigweed species are present and whether there is herbicide resistance."
In addition to the North Dakota Soybean Council, this research is supported by the North Dakota Corn Utilization Council, and the North Dakota Department of Agriculture.
The NAGC is a non-profit, independent diagnostic testing resource for plant breeders, growers and researchers. The Center was founded in 2016, and is ISO certified. They perform tests for the North Dakota State Seed Quality Department and other state seed labs, private companies, and producers. For more information about the NAGC, visit their website: https://www.genotypingcenter.com/.
Published: Mar 7, 2022
The materials on SRIN were funded with checkoff dollars from United Soybean Board and the North Central Soybean Research Program. To find checkoff funded research related to this research highlight or to see other checkoff research projects, please visit the National Soybean Checkoff Research Database.