Research Highlights

Adding Prairie Strips to a Field Can Have Significant Water Quality Improvement Impact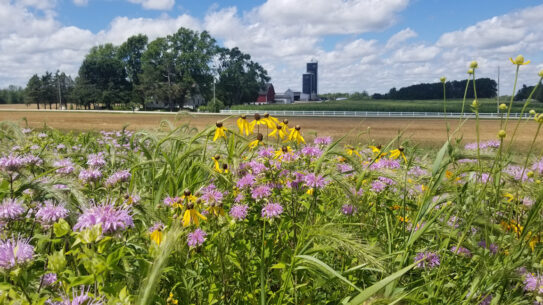 By Carol Brown
The Conservation Reserve Program (CRP) launched in 1985 as part of the federal Farm Bill. It provides farmers and landowners a way to take farmland out of production without losing income that would have come from farming that land. The goal is to reduce soil erosion and improve water quality and wildlife habitat. In 2020, the Clean Lakes, Estuaries and Rivers (CLEAR) Initiative with Prairie Strips, or CP-43, was added to the CRP.
Prairie strips is the humble name for areas of land that were formerly in row crop production and replaced with perennial prairie grasses and forbs. These strips of land can be along a field border, running through a field, in terraces or adjacent to a waterway. And their water quality benefits are significant.
Sand County Foundation is leading a project, funded by several partners and the United Soybean Board in 2020, that encourages farmers and landowners to install prairie strips where appropriate to reduce sediment and nutrient runoff from their agricultural fields.
"We selected several midwestern watersheds with a lot of row crop production and are using the existing modeling tools to examine the water quality impact of prairie strips on a small watershed scale," says Craig Ficenec, Program Director for Sand County Foundation, Madison, Wisc. "This is in addition to cover crops, no-till and other conservation practices."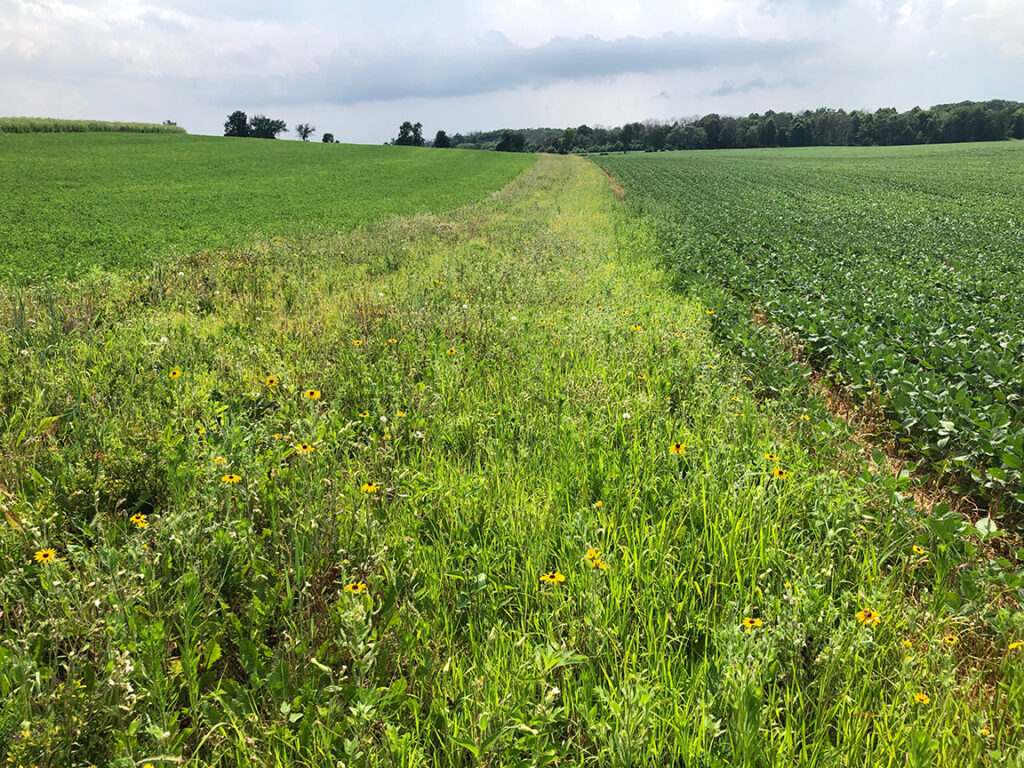 The prairie strip concept originated at Iowa State University through the research team Science-based Trials of Rowcrops Integrated with Prairie Strips, or STRIPS. The group found that by taking just 10 percent of land out of crop production and replacing it with perennial prairie plants, farmers could reduce sediment loss by up to 95 percent; and phosphorus and nitrogen loss through runoff could be reduced by 77 and 70 percent, respectively.
"The STRIPS team describes these areas as having disproportional benefits," says Ficenec. "One of the goals in the United Soybean Board's sustainability protocol is to reduce land impact of soybeans by 10 percent. I think prairie strips fit right in with that goal."
To increase prairie strips awareness and adoption, the Foundation is partnering with Soil and Water Conservation Districts in Iowa and Minnesota, American Farmland Trust in Illinois, and producer-led watershed improvement groups in Wisconsin. Ficenec says they are working alongside local technicians and field staff to help with recruiting, organizing meetings and one-on-one conversations to present the prairie strip concept and, ultimately, get them on the land.
"Prairie strips are new and different — it takes three years to see a lot of blooming flowers," Ficenec says. "People aren't used to seeing these areas that have 30 different species of grasses and forbs in the middle or along the edge of a field. But when prairie strips are installed where applicable, they can be another tool in the farming operation toolbox."
Sand County Foundation has helped get prairie strips established on eight Wisconsin farms through a grant from North Central Sustainable Agriculture Research and Education (SARE) program, and they continue to advocate for the practice.
"We're starting slowly and are working with the early adopters in the selected watersheds in these four states," says Ficenec. "We held a virtual field day this past July, and we have several testimonial videos on our website of farmers who have adopted prairie strips on their land."
The videos and the recording of the field day is on their website: https://sandcountyfoundation.org/prairiestrips
Iowa State University STRIPS project: www.prairiestrips.org
For more information on the CP-43, download the USDA fact sheet: https://www.fsa.usda.gov/Assets/USDA-FSA-Public/usdafiles/FactSheets/2019/crp_clear_initiative_prairie_strip_practice-fact_sheet.pdf
Published: Mar 1, 2021
The materials on SRIN were funded with checkoff dollars from United Soybean Board and the North Central Soybean Research Program. To find checkoff funded research related to this research highlight or to see other checkoff research projects, please visit the National Soybean Checkoff Research Database.