Research Highlights

Soybean entomology in the North Central region: Management and outreach for new and existing pests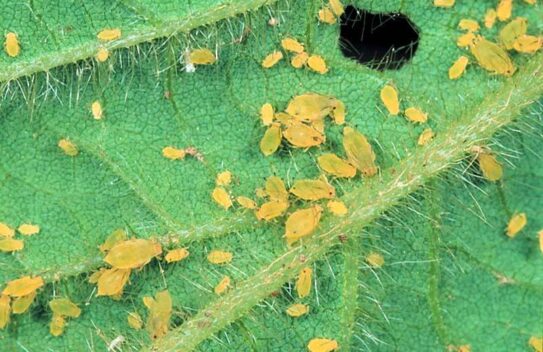 By Barb Baylor Anderson
A team of researchers in the fields of entomology, agronomy, and plant breeding has been leading the way in soybean insect IPM for nearly 20 years. Kelley Tilmon, field crop entomologist at The Ohio State University, currently leads the group of 25 multi-disciplinary researchers in 12 states.
The group formed as a response to the soybean aphid (Aphis glycines) that was newly detected in the north-central United States in 2000. The collaborative approach and wide range of expertise allowed the group to respond quickly and effectively to the new pest. Within months, scouting methods were in place, followed by an economic threshold, insecticide recommendations, and soybean aphid resistant varieties.
With checkoff support from the North Central Soybean Research Program (NCSRP), the United Soybean Board, and state soybean checkoff organizations, the group continues to evolve, recently incorporating new faculty at the University of Nebraska, University of Illinois, and the University of Missouri, as well as established researchers who are new to the project from the University of Wisconsin, Michigan State University, and University of Kentucky – all of which increases the collaborative power and the reach of the results. Research goals are determined by farmer priorities and needs, which are regularly assessed by farmer surveys.
Update on breeding for soybean aphid resistance
Planting resistant soybean varieties continues to be the foundation of soybean aphid IPM recommendations. Aphid-resistant varieties have the potential to protect soybean yield, while simultaneously reducing insecticide use and associated production costs, and preserving natural enemies in soybean.
Because of the dynamic nature of soybean aphid populations, soybean breeders continue to look for naturally-occurring resistance genes in soybean and then combine or "stack" them in new soybean lines in order to provide the most durable resistance. A milestone in this effort was achieved in the breeding program at the University of Illinois, led by Brian Diers and Greg Hartman, with the release of a soybean line with resistance genes Rag1 and Rag2 stacked together. A variety with this two-gene stack was licensed to a major seed distributor in 2019, and there is interest from other companies to license additional lines with this stack for wide-scale commercialization.
Another significant advance completed at the University of Illinois last season was the development of isogenic lines that have all 32 combinations of Rag1, Rag2, Rag3, Rag4, and Rag6 in the backgrounds of a maturity group (MG) I and a MG II cultivar. A few pounds of seed were harvested in the fall of 2019 that includes lines with all five resistance genes. The seed was distributed to the soybean research community for further development.
Soybean aphid insecticide resistance
Soybean aphids with resistance to pyrethroid insecticides have been found in four north-central states, with the problem spreading each year. Tools to measure and track aphid resistance were developed by a research team led by entomologist Robert Koch, at the University of Minnesota, which continues to assess the magnitude and scale of soybean aphid resistance in large-scale field experiments. The fact sheet Management of Insecticide-resistant Soybean Aphids, updated in September 2019, provides an overview of the situation, an updated distribution map, new insecticide products registered for soybean aphid, and recommended strategies to prevent further aphid resistance.
Monitoring soybean aphids and soybean aphid biological control
The seasonal abundance of soybean aphid is monitored each year by the Suction Trap Network. Last season, the Suction Trap Network consisted of 33 suction traps that operated for 23 weeks from May 17 through October 18. Samples were received on a weekly basis and posted to a public website: https://suctiontrapnetwork.org/data. The web site allows users to select any suction trap location and see a graph of the seasonal abundance for the eight most abundant aphid species. The site will continue operation in 2020.
Naturally-occurring biological control of the soybean aphid was also monitored and assessed by numerous collaborators who sampled soybean fields for mummies of the soybean aphid parasitoid Aphelinus in late June, July, and August. The entomology lab at the University of Minnesota received and processed the samples. Last year aphids were found in all states except Missouri and Nebraska, and Aphelinus was found in the Dakotas, Minnesota, Wisconsin, Michigan and Ohio. The team is also tracking seven hyperparasitoids from four genera.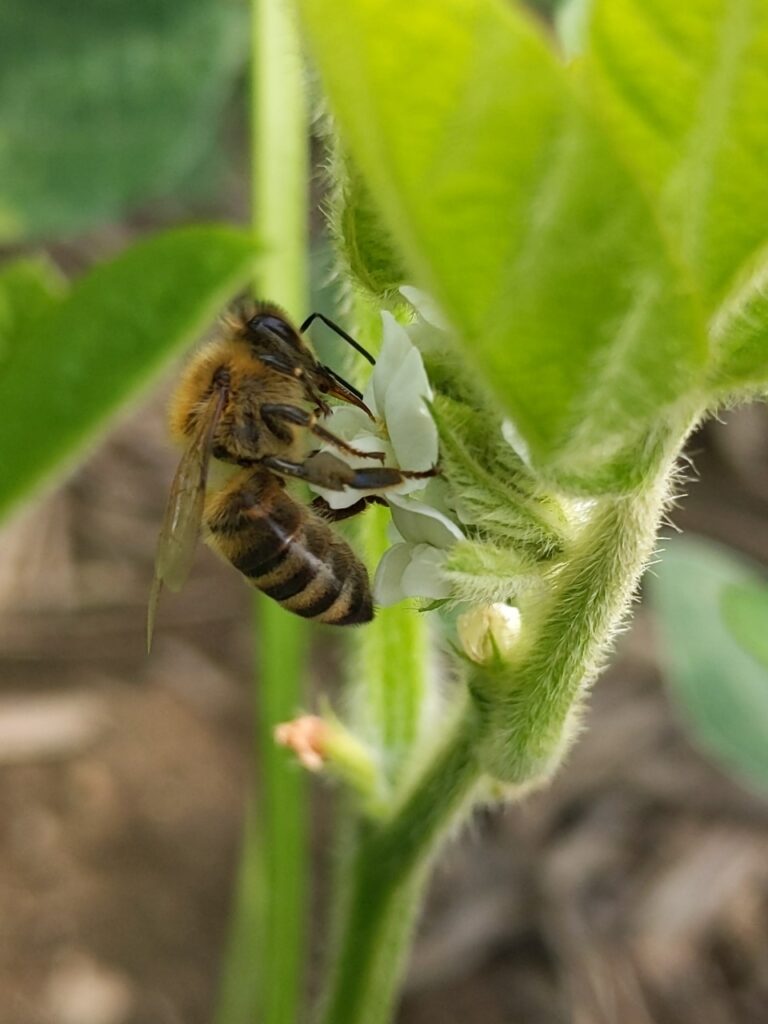 Role of pollinators in soybean fields
With some preliminary studies documenting the potential for substantial yield improvement, research on pollinators in soybean has advanced to the point where researchers are ready to assess the value that honey bees may provide in soybean production.
A research team from the Ohio State University installed hive equipment and honey bee colonies on two soybean farms in the 2019 season, and then planted fields with soybean varieties which were selected in a way that floral attractiveness could also be evaluated. Preliminary results indicate a significant variation in nectar quantity and sugar concentration among varieties. The team is currently analyzing the data to evaluate correlations with pollinator visitation and seed quality.
With checkoff support from the Ohio Soybean Council, a Pollinators of Soybean fact-card was published for pollinator species found in Ohio.
Update on defoliators in soybean fields
Efficient scouting of defoliating insects such as Japanese beetle, clover worm, and bean leaf beetles is the goal of a research team led by Nick Seiter at the University of Illinois, and entomologists in six states (IA, KS, MI, IN, OH, IL). The team is also putting efforts into verifying that typical levels of defoliation found each year in soybean fields are not reducing yields.
In 2019, the team estimated the extent and spatial distribution of soybean defoliation in 27 soybean fields in six states, and then compared those estimates to measurements taken with a smartphone app, and with images of canopy defoliation with known levels of defoliation. The team also investigated the value of remote-sensing technology such as satellite imagery or drones to spot and quantify defoliation damage. The results will be summarized in future outreach publications.


Published: Aug 10, 2020
The materials on SRIN were funded with checkoff dollars from United Soybean Board and the North Central Soybean Research Program. To find checkoff funded research related to this research highlight or to see other checkoff research projects, please visit the National Soybean Checkoff Research Database.