Research Highlights

Dairy Cow Performance with Extruded Soybean Meal Broadens Opportunities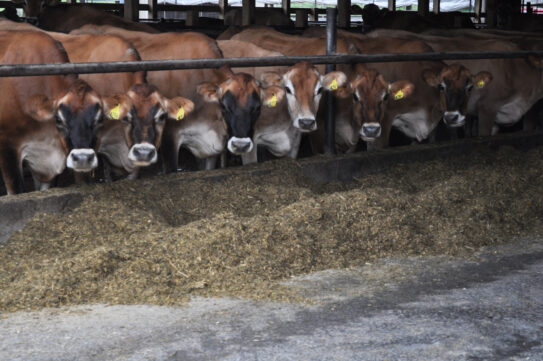 By Barb Baylor Anderson
Canola meal during the last 40 years has become a protein staple in dairy cow diets due to its availability and performance. But new research from Penn State University confirms soybean meal, when fed on an equal protein basis and supplemented with rumen-protected methionine (Met), performs just as well as canola meal. That is good news for soybean demand.
In research funded by the Pennsylvania Soybean Promotion Board in 2019, researchers found feeding extruded soybean meal or solvent-extracted soybean meal gives similar energy-corrected milk yield as compared to canola meal when diets are comparable in ether extract concentration and digestible Met supply. In addition, there was no difference in milk component yields and feed efficiency in lactating dairy cows.
"This kind of research is most beneficial for dairy nutritionists," says Alex Hristov, Penn State dairy nutrition specialist and principal investigator of the research. "But it may also stimulate discussion about soybean variety development, using both traditional and molecular techniques, to enhance concentration of certain amino acids in soy protein that benefit dairy nutrition."
Hristov's project built on previous research that also demonstrated increased dry matter intake and increased milk yield in dairy cows fed diets in which solvent-extracted soybean meal was replaced with extruded soybean meal. Hristov built on those results to investigate the effects of all three protein sources – both soybean meals and canola meal – on lactational performance, plasma amino acid profiles, enteric gas emissions, milk fatty acids and nutrient digestibility.
Hristov explains that canola meal and extruded soybean meal share similar processes. Since canola seeds are high in oil content, they undergo an extrusion process before solvent extraction of the oil. Both canola and soybean processes create heat due to friction that increase the rumen undegraded protein (RUP), or escape protein, content of the meals. And the higher the escape protein content, the more protein cows have available for milk production.
Feeding on a metabolizable protein basis allows nutritionists to target the amount of protein needed to feed cows more efficiently. He says a more consistent RUP and enhanced amino acid profile in soybean meal would help better manage dairy rations.
Given the promise of these results for soybean farmers, Hristov hopes to address more of the unanswered questions regarding performance. "We are now starting a larger project to compare production effects of extruded soybean meal versus canola meal in dairy cow rations," he says.
Published: Sep 9, 2020
The materials on SRIN were funded with checkoff dollars from United Soybean Board and the North Central Soybean Research Program. To find checkoff funded research related to this research highlight or to see other checkoff research projects, please visit the National Soybean Checkoff Research Database.